Philly Cheesesteak sandwiches on the grill might be a little unconventional but it's amazing. Smokey flavors infused into steak, peppers, and onions is a special extra touch. It's very simple to make and you can easily double the recipe to feed a crowd.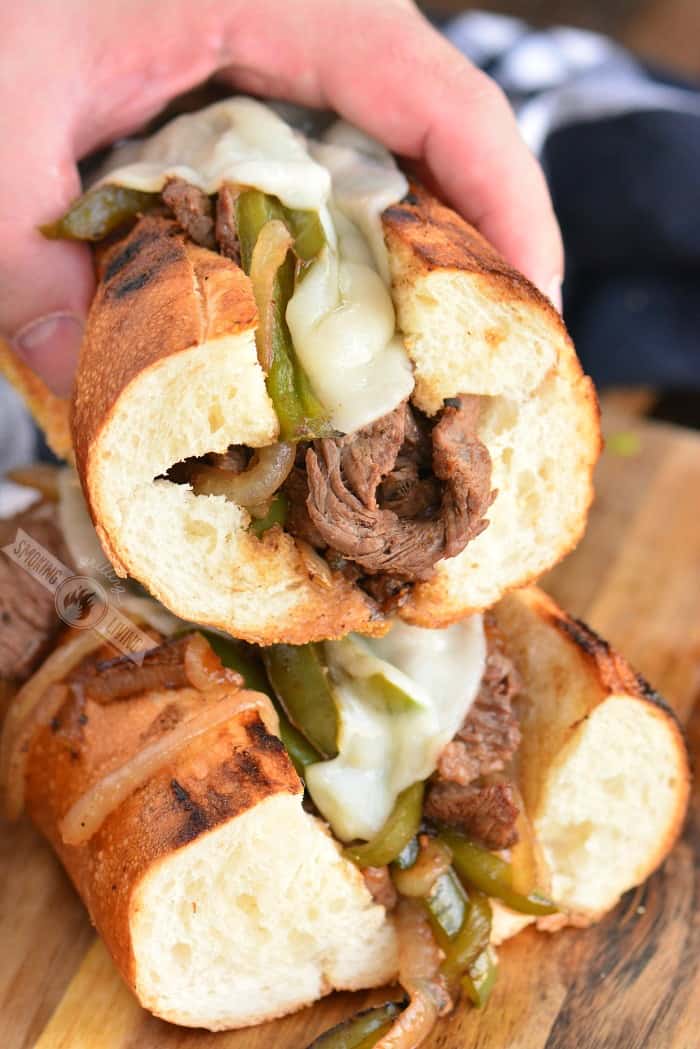 PHILLY CHEESESTEAK
When your family owns a restaurant, you don't ever have to eat lunch at school. But, around 2 o'clock, stomach growling can get pretty loud. My family owned a restaurant for many years so every day, after school, I'd beeline there to eat. Philly cheesesteaks that my mom made were the best after a long day at school. It was totally worth waiting all day.
I would have her take out most of the bread from the inside of the hoagie roll and just leave the outer, crusty shell. Might seem crazy to some people but I just wanted to taste most of that delicious meat, onion, pepper, and gooey cheese combo. I wanted just a touch of bread…the crunchy part, of course. Now, I'd kill to be able to eat a whole, fresh, delicious, hoagie roll.
I still love Philly Cheesesteaks, it's simple an so satisfying. With so few ingredients, it's all about that wonderful filling and bread, if you love it. And how do you not love it? Simple ingredients often make the best combination for the best tasting dishes. This sandwich is simple but a classic that will never be forgotten.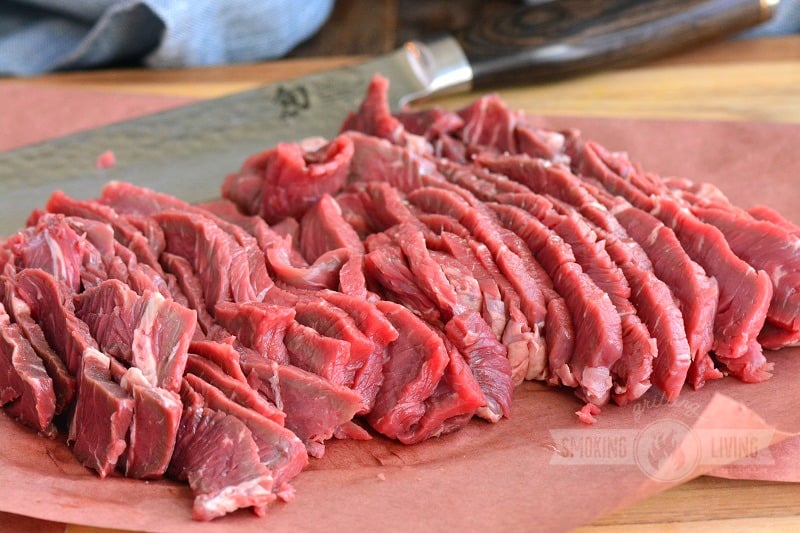 INGREDIENTS IN A PHILLY CHEESESTEAK
Steak – first question about the ingredients always comes down to "what steak to get?" I always bring it down to three choices: ribeye, sirloin, or flank. Ribeye steaks have a lot more marbling and richer flavor but it is also more expensive. Less expensive and just as tasty option is sirloin. Flank steak it usually the cheapest option and when sliced very thinly, can still be very good in the sandwich.
Onion – you can't have a cheesesteak without the caramelized onions. I love the sweeter touch of Vidalia onion but you can also opt for a regular yellow onion.
Bell Peppers – once you have the first two musketeers, you need the third one, the peppers. One large pepper is enough for two full sandwiches. After all, you don't want to overshadow the beef.
Seasoning – salt and pepper is essentially all you need because the caramelized vegetables and juicy steak will speak for itself. But, if you really want to add some steak seasoning, simply add a teaspoon of each: thyme, garlic powder, onion powder, and rosemary.
Cheese – originally, this classic steak sandwich didn't have any cheese on it. Provolone was added later down the road and became even more popular. Even later, when this sandwich was already extremely popular, the original restaurant started using a combination of Provolone cheese and Cheez Whiz and that version was an instant hit. I always use aged Provolone cheese but as far as Cheez Whiz, I will leave that decision up to you.
Hoagie – for the absolute best sandwich, get deli-fresh Italian hoagie. It will have that soft and fluffy inside and crunchy outer shells.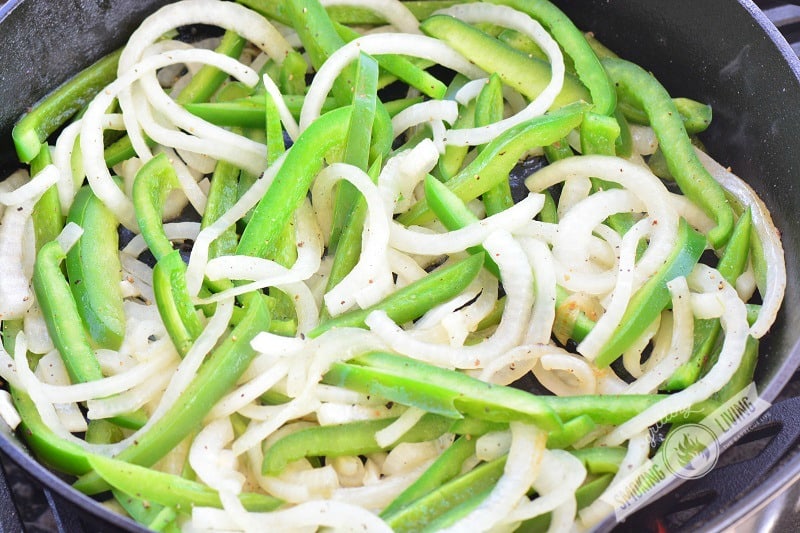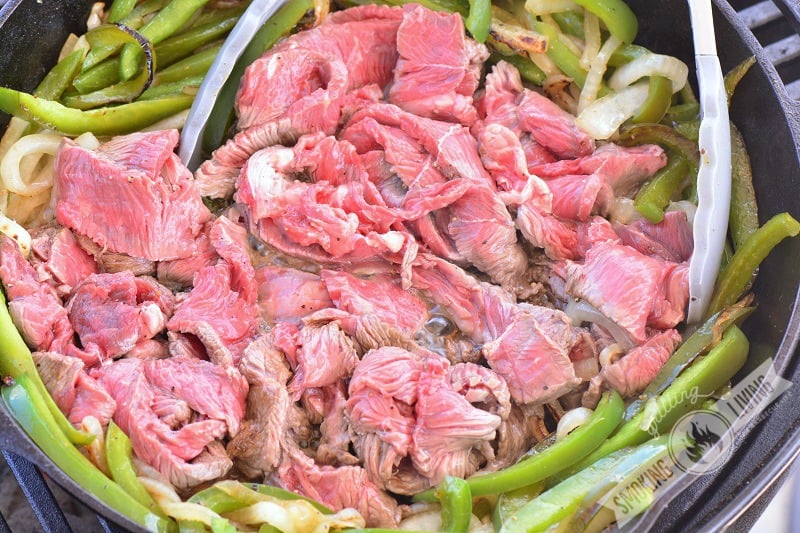 HOW TO COOK PHILLY CHEESESTEAK ON THE GRILL
Cut your steak as thinly as possible. You have two options to get the steaks nice and thin. You can ask the butcher to shave it as thin as possible for you and if that option is not available, you can do it yourself. Place the steak into the freezer for an hour or hour and a half and then use a sharp knife to slice the steak as thinly as possible. Partially frozen steak is very easy to slice and when it's thin, it will thaw very quickly.
Cook in a cast iron skillet – cook onions and peppers in a cast iron skillet on the grill first and then add the steak and cook it all together.
Don't overcook the meat – it's best to cook the vegetables fist because it will take only a few minutes to cook the steak. Vegetables will take much longer so add the meat when onions and peppers are already cooked. Cook steak until just done.
Toast the bread – place the hoagie rolls on the grill to toast when the steak is almost done. Be careful, hoagies will toast very fast so check every few seconds.
Melt cheese on the sandwiches while on the grill – Divide the filling among the hoagie rolls and top it off with slices of Provolone. Place sandwiches in another skillet or directly on a cooler side of the grill (far from the coals side) and close the lid for cheese to melt.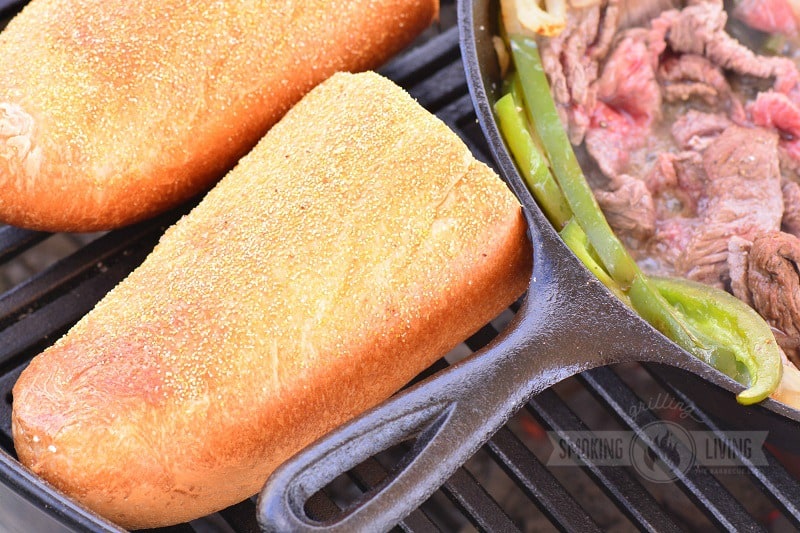 GRILL NOTES:
Coals: briquettes or lump coal
Grill temperature: medium: 350°-425° (about 2/3 – 3/4 filled chimney)
Placement on the grill: direct, in cast iron skillet
Wood if desired: hickory, oak, pecan, mesquite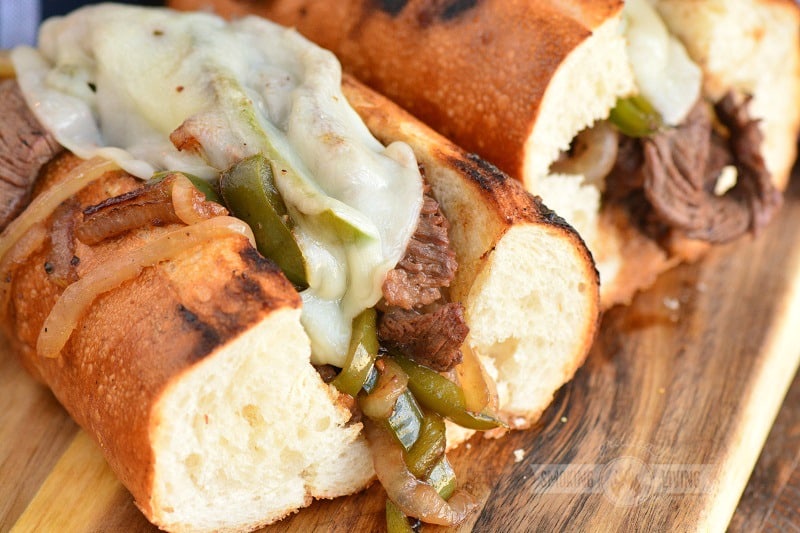 MORE RECIPES TO TRY
Steak and Onion Grilled Cheese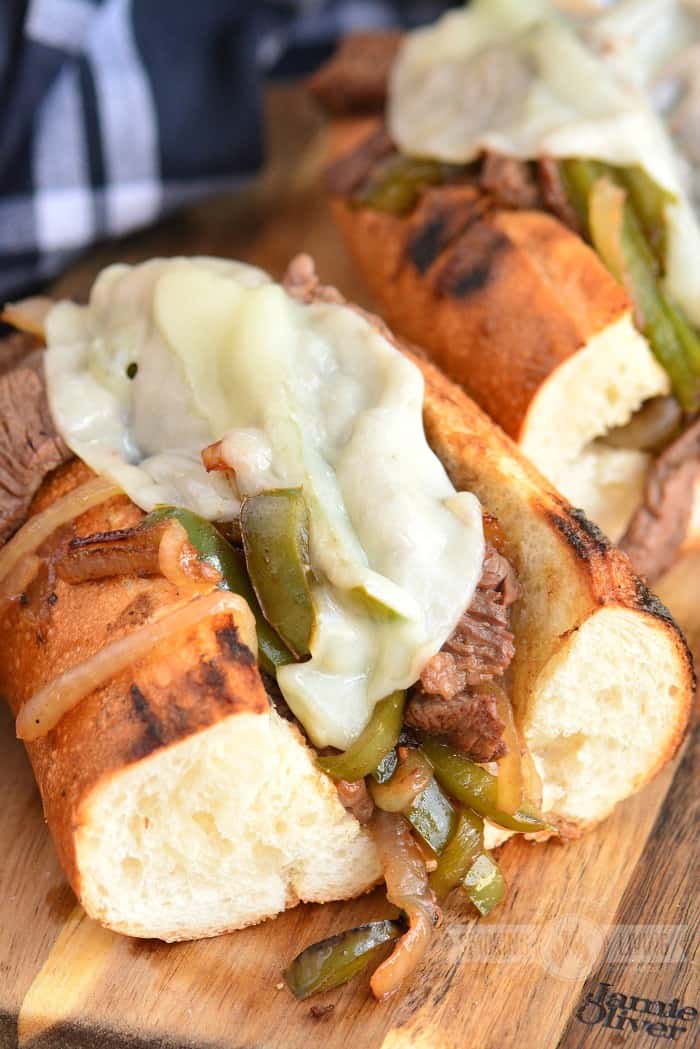 If you made any of my recipes and shared them on Instagram, make sure to tag me @grillingsmokingliving and #grillingsmokingliving so I can see all the things you tried!
Connect with Grilling Smoking Living!
Be sure to click below and follow me on my social media, so you never miss a recipe.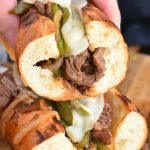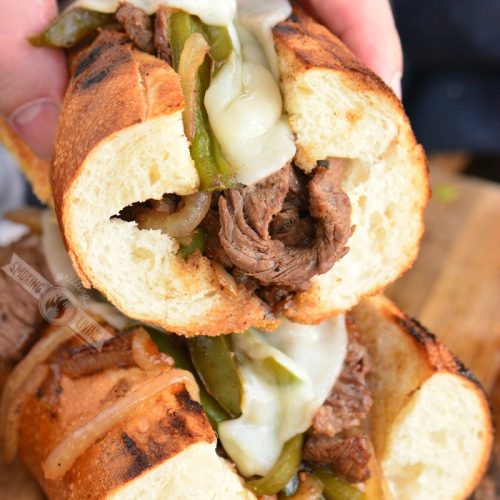 Grilled Philly Cheesesteak
Classic sandwich made with thinly sliced steak, caramelized onions and peppers, gooey Provolone cheese and all stuffed into an Italian hoagie roll. Smokey flavors from the grill give this sandwich an extra special touch.
Print Recipe
Ingredients
1

lb

ribeye steak

(or sirloin)

1

large Vidalia onion

1

large green bell pepper

2

tbsp

canola oil

sea salt to taste

1/2

tsp

fresh cracked black pepper

4

slices Provolone cheese

2

Italian hoagie rolls
Steak seasoning (optional):
1

tsp

garlic powder

1

tsp

onion powder

1

tsp

dried thyme

1

tsp

dried rosemary

crushed
Instructions
About 1 1/2 hours before cooking:
Place the steak into the freezer for an hour or hour and a half to let it partially freeze.
Prepare Ingredients:
Use a sharp knife to slice the steak as thinly as possible. Partially frozen steak is very easy to slice and when it's thin, it will thaw very quickly.

Slice onion and bell pepper thinly as well.

Combine seasoning in a small bowl and mix well.
Cooking Philly Cheesesteak:
Prepare coals and when they are ready, add them to the grill. Build two-temperature zone by spreading coal only on 1/3 (or half) of the grill. Place a large cast iron skillet directly over the coals and close the lid. Let it preheat for 5-10 minutes.

Add oil to the skillet and add onions and pepper. Sprinkle about half the seasoning over onions and peppers (save the rest for the steak). Stir the vegetables to mix and let them cook. Cook vegetables until softened and browned.

Spread onions and peppers to the sides of the skillet, leaving a large open circle in the middle. Add thinly sliced steak in the center and sprinkle it with remaining seasoning.

Cook the steak for a couple of minutes and then stir everything together. Let it cook until steak is just done.

Place hoagies on the grill to toast while the steak is cooking.

When done, divide steak and vegetables mixture between the hoagie rolls and top it off with cheese. You can let the hot filling melt the cheese or you can place the sandwiches into a skillet and let it melt on over indirect heat with the grill lid closed. It till only take a minute or two.
Notes
All images and text ©Lyubov Brooke for ©GrillingSmokingLiving. Please do not use my images without prior permission. If using my posts in collections and features, please link back to this post for the recipe. Disclaimer: Nutrition information shown is not guaranteed to be 100% accurate as most ingredients and brands have a slight variation.
Nutrition
Calories:
1041
kcal
|
Carbohydrates:
52
g
|
Protein:
68
g
|
Fat:
63
g
|
Saturated Fat:
25
g
|
Cholesterol:
177
mg
|
Sodium:
918
mg
|
Potassium:
1004
mg
|
Fiber:
4
g
|
Sugar:
15
g
|
Vitamin A:
747
IU
|
Vitamin C:
56
mg
|
Calcium:
494
mg
|
Iron:
16
mg