Delicious, juicy grilled salmon slathered in a simple maple BBQ sauce with a hint of spice from cayenne pepper. It's a beautiful combination of sweet, spicy, and tangy flavors to go with salmon. This dish will take you less than 30 minutes to prepare, which is perfect for dinner any day of the week!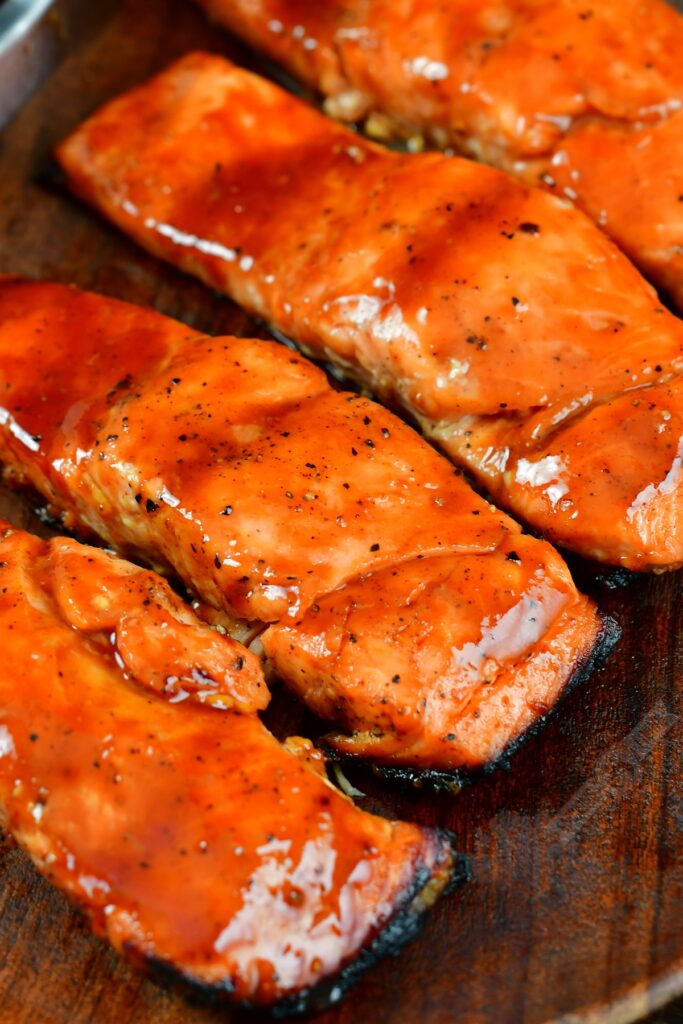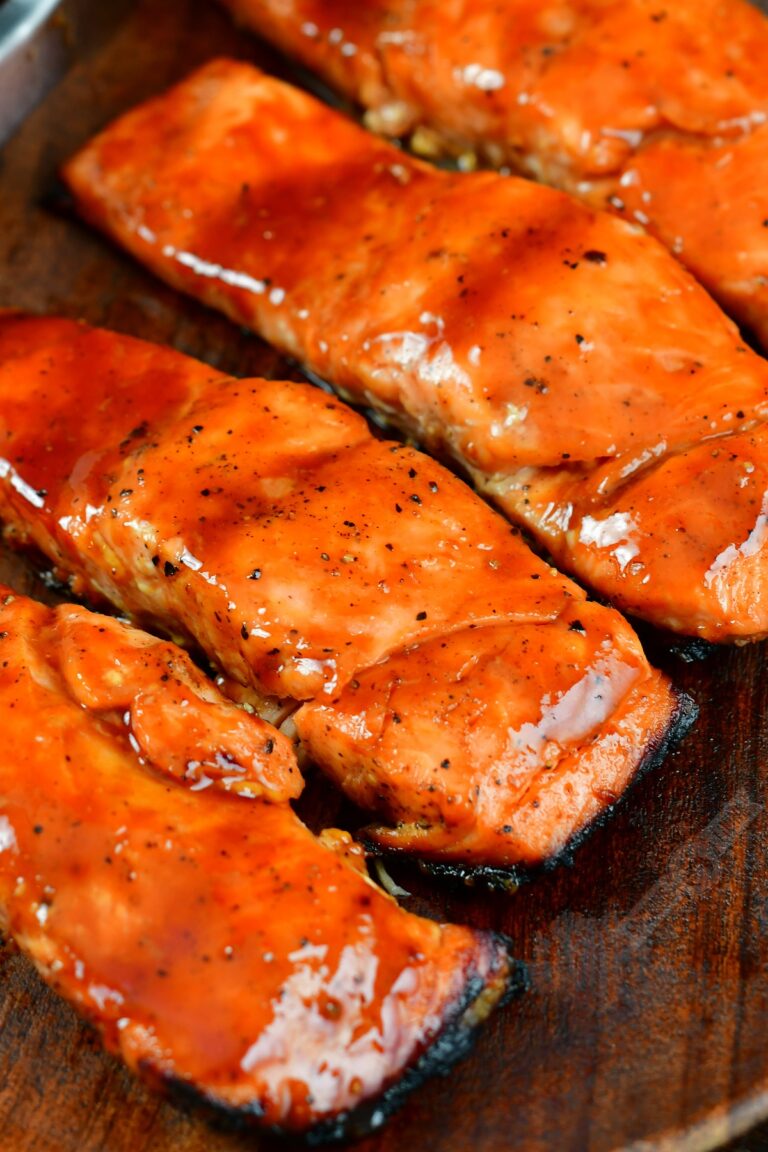 Glazed Grilled Salmon
Salmon is a fantastic fish to prepare on the grill. It's so easy to cook and with its mild flavor, it goes with so many seasoning, sauces, and side dishes. Flesh of salmon is moderately dense, thick, and meaty, which is why it can stand up to many different cooking methods and retain its shape and moisture.
Salmon takes of the smoky flavor of the grill very well and doesn't fall apart when you try to touch it, which is great to be able to grill it right on the grate. You just have to make sure to keep the salmon skin on, clean the grill grate very well, and great the salmon skin with oil before plating it on the grill.
As I mentioned, salmon has a mild flavor, so it goes well with many different ingredients. This sweet and tangy combination of BBQ sauce and maple syrup is one of our favorites! I also like to add some heat with a pinch (or two) of cayenne pepper.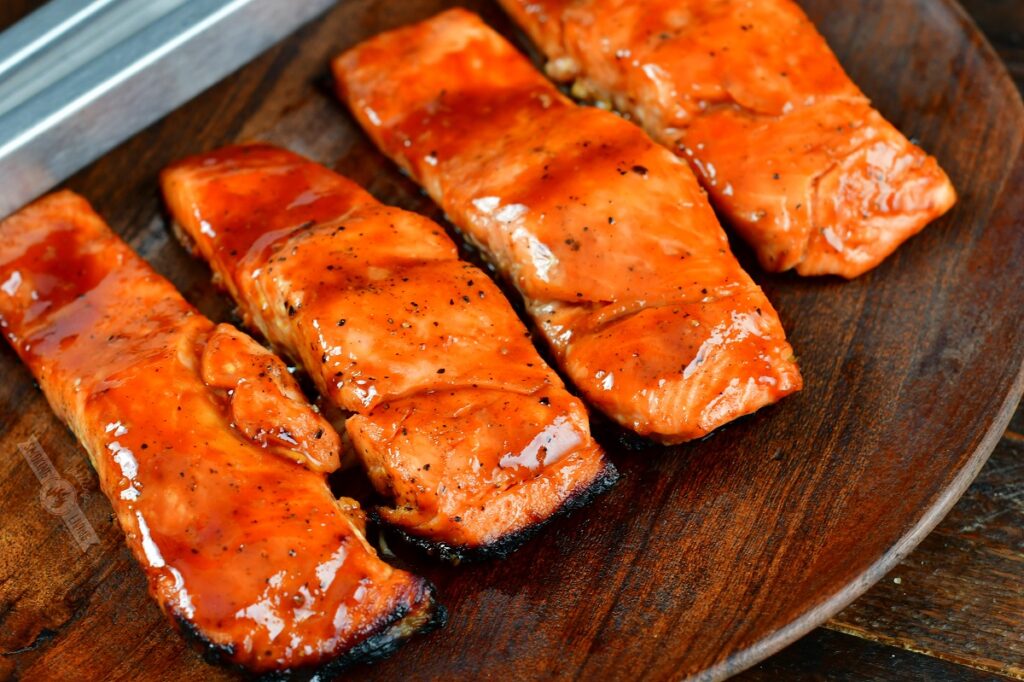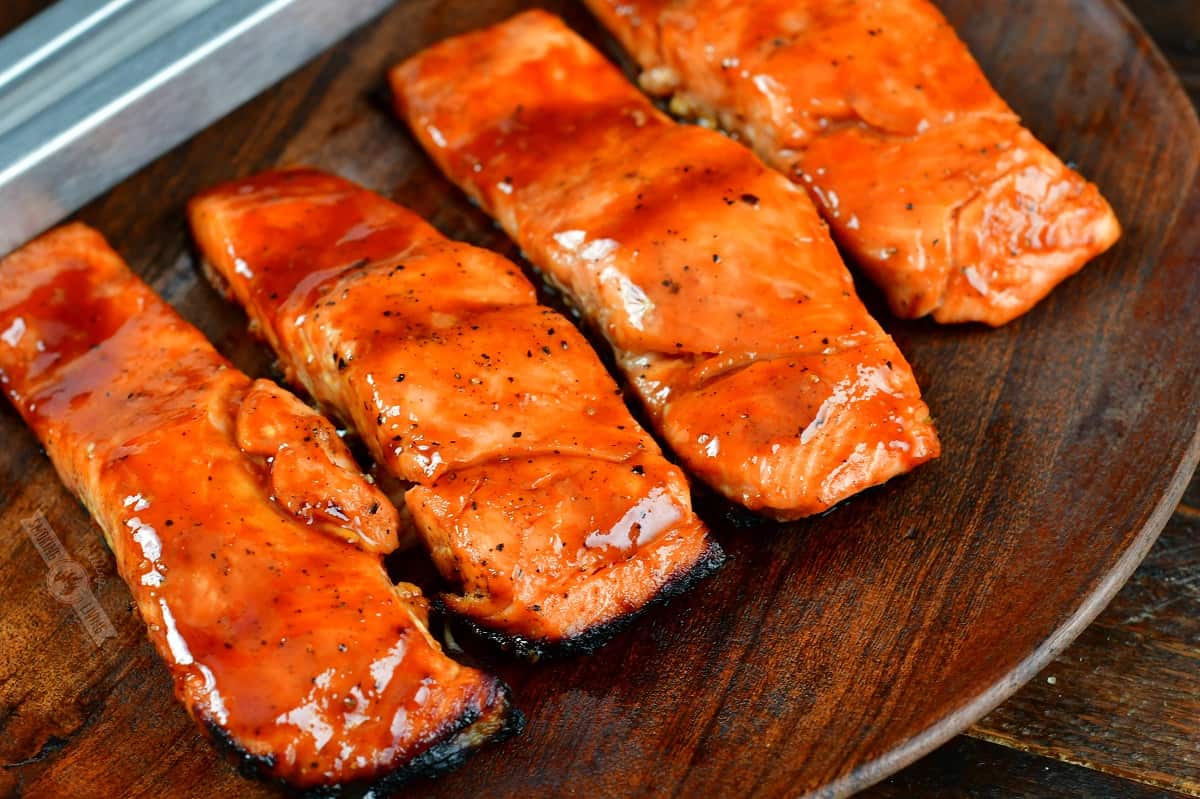 QUICK GRILLING NOTES
Grill temperature to cook salmon: high 425°-450°
Grill set up: prepare two temperature zones so you can move the salmon over to the cooler side.
Placement on the grill: over direct heat.
How long to grill salmon? 8-12 minutes for most salmon filets but exact times depends on the thickness of the meat.
Temperature of salmon when done: take salmon off the grill when it reaches 135° at the thickest part and let it rest. (USDA recommends salmon safe temperature to be 145° but some people feel that it is overdone.)
Wood if desired: cedar, alder.
Ingredients You Need: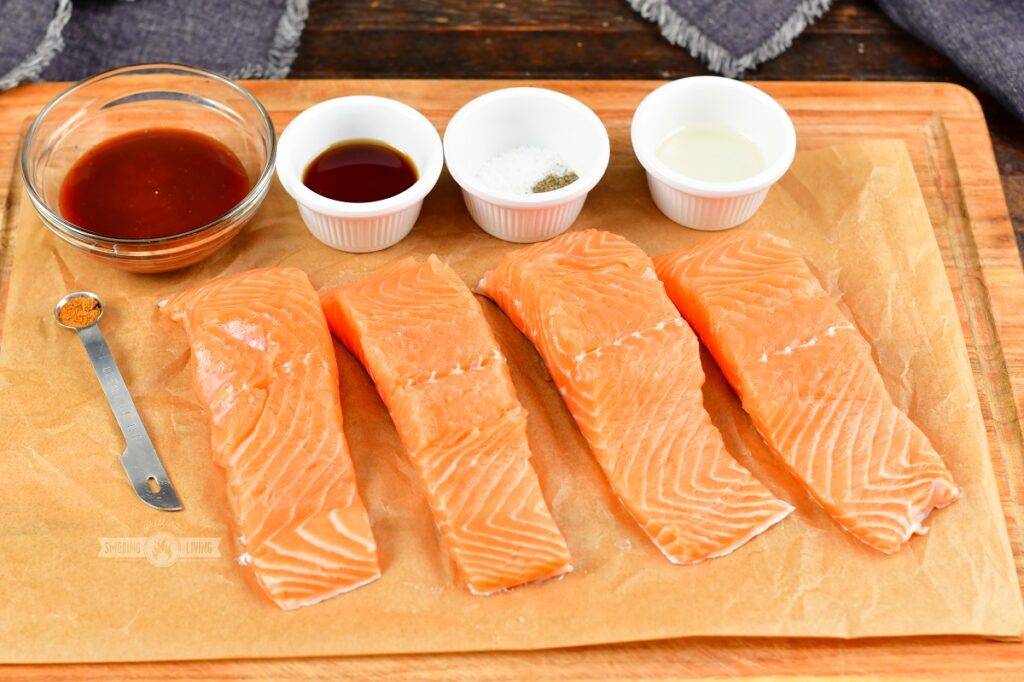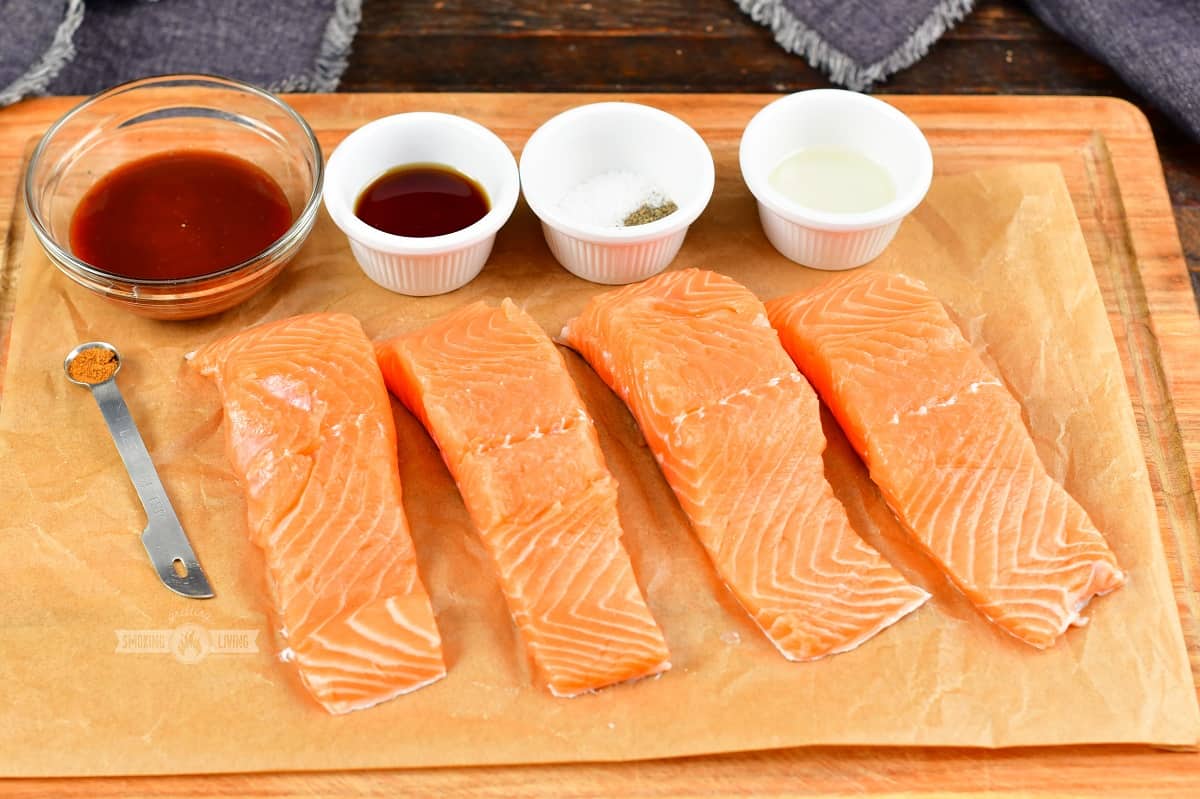 Salmon Filets – you will need 4 salmon filets that are 6-8 oz. each.
BBQ sauce – use your favorite classic BBQ sauce.
Maple syrup – for the best flavor, use pure maple syrup.
Salt, pepper, cayenne pepper – use the amount of cayenne pepper to your own personal taste. Remember, cayenne is quite spicy.
How To Make Glazed Grilled Salmon
Note: normally, the way to grill salmon filets is to start skin side up for a few minutes and then flip it over onto the skin and finish cooking. Since we have a glazed salmon, you don't want glaze to burn. So instead, grill salmon skin side down the whole but, but move it over to the indirect heat to finish cooking for the last 3-4 minutes.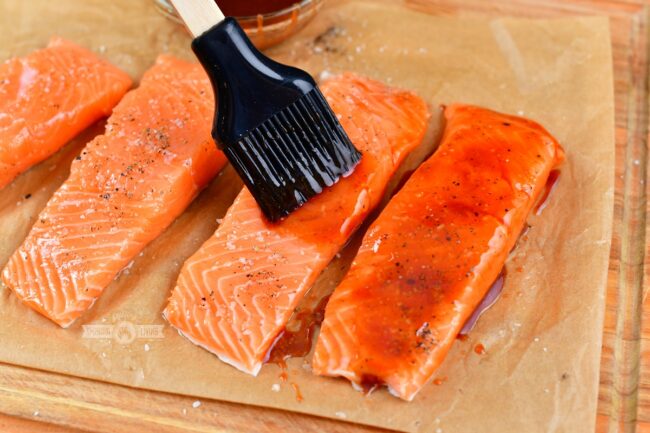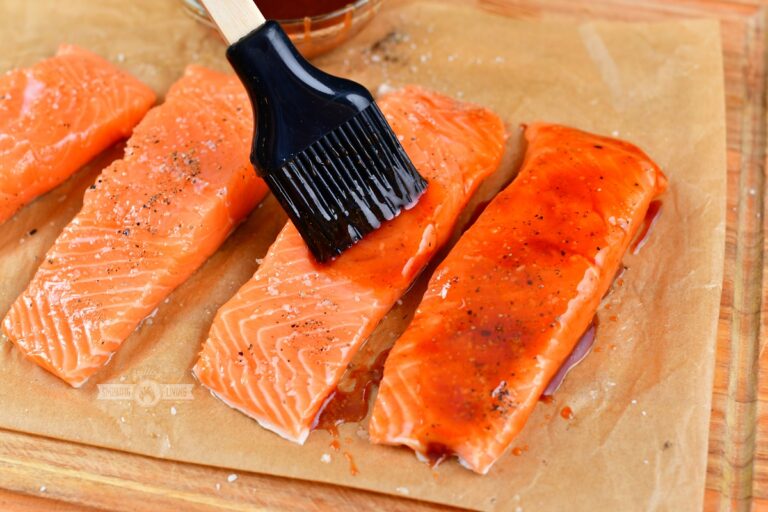 Prepare the grill to high temperature, 425°-450° and make sure to set up two temperature zones. Clean the grill grate well and close the grill to preheat.
Mix together the BBQ sauce, maple syrup, and cayenne pepper. (Divide in two.)
Pat salmon fillets dry with a paper towel and season each fillet with salt and pepper on all sides.
Rub the skin with oil and brush the other three sides with BBQ sauce mixture. (Leave half to brush in the middle of cooking.)
Place each salmon fillet on the grill skin side down over direct heat and close the lid. Let it cook about 6-8 minutes. Check on the salmon to see if you need to move it over to the cool side if the skin is getting dark too fast.
If you need to, move it over to the cool side, brush with some more BBQ sauce mixture, and cook another 3-4 minutes. To check if salmon is done, you can either touch the top to feel the firmness of the flesh or use a meat thermometer.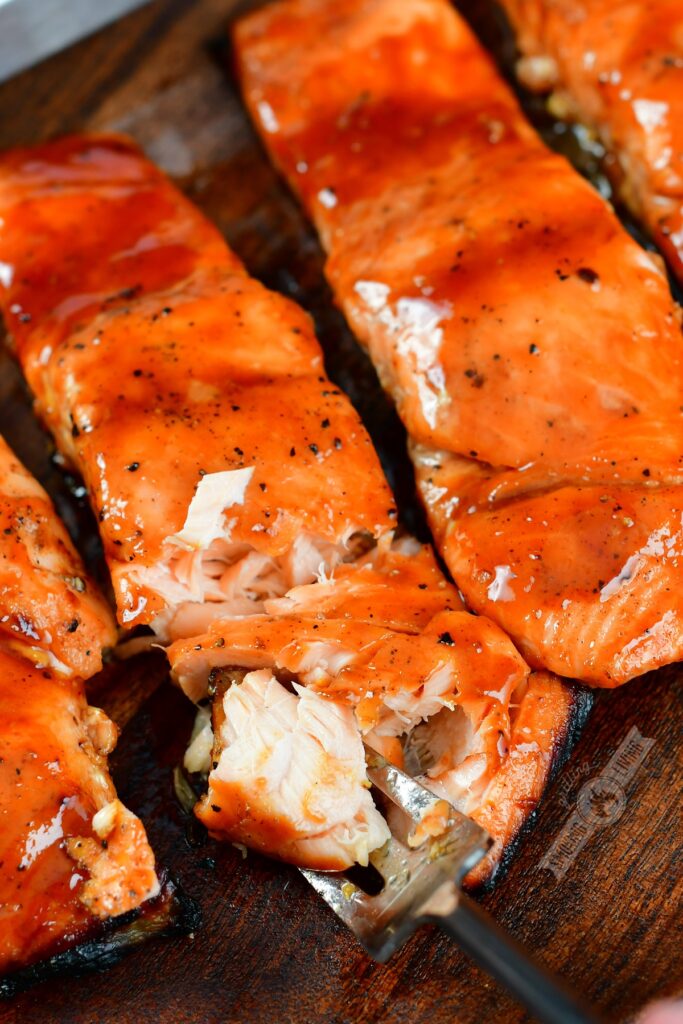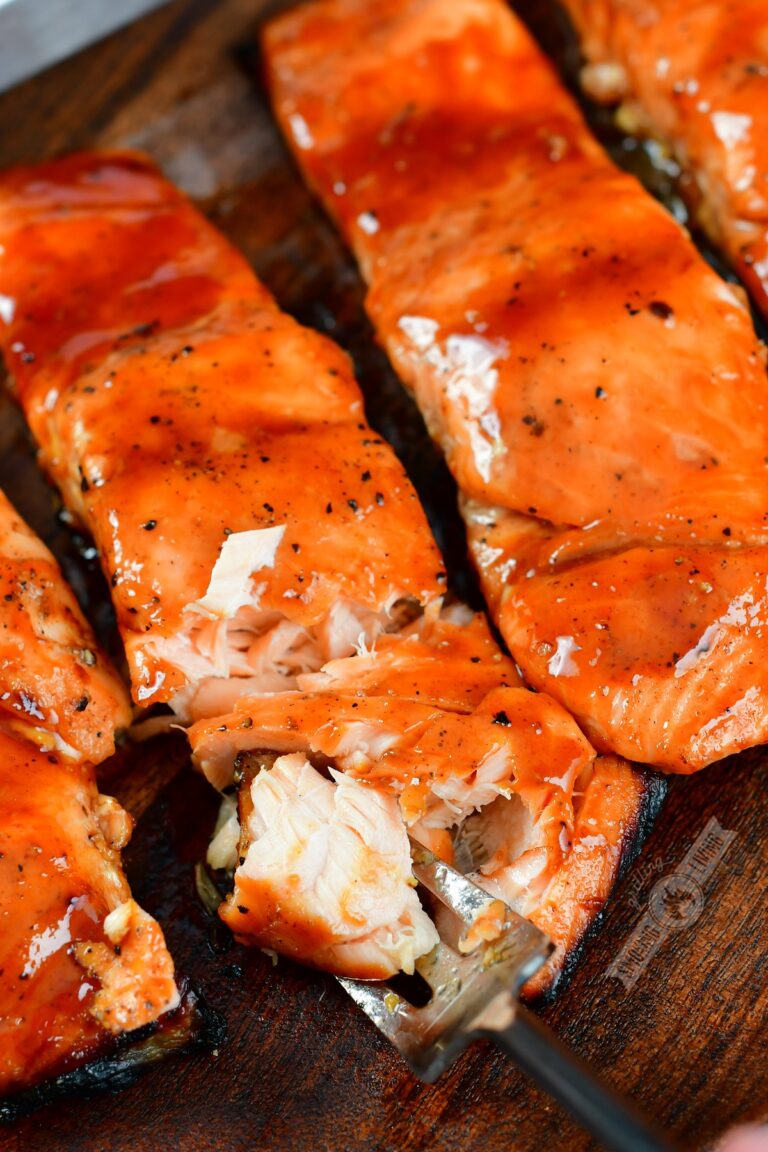 Some More Salmon Recipes To Try:
Lemon Herb Cedar Plank Grilled Salmon
PIN THIS RECIPE FOR LATER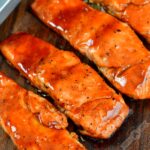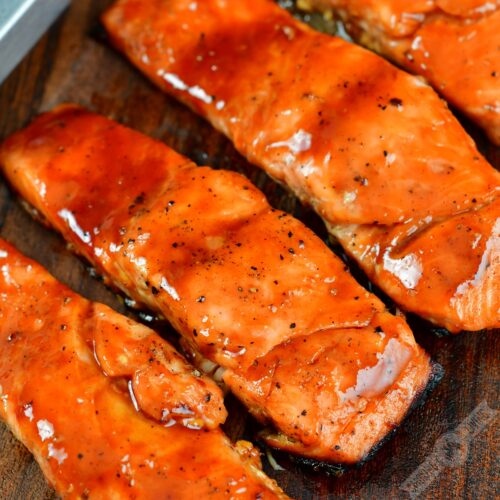 Maple BBQ Grilled Salmon
Delicious, juicy grilled salmon slathered in a simple maple BBQ sauce with a hint of spice from cayenne pepper.
Print Recipe
Ingredients
24

oz

skin on salmon filets

(4 filets that are 6-8 oz. each)

canola oil

to run the skin

salt

black pepper

1/3

cup

BBQ sauce

1 1/2

tbsp

maple syrup

1/8-1/4

tsp

cayenne pepper

to taste
Instructions
Prepare the grill to high temperature, 425°-450° and make sure to set up two temperature zones. Clean the grill grate well and close the grill lid to preheat.

Mix together the BBQ sauce, maple syrup, and cayenne pepper. Divide in two to brush some on before grilling and some during.

Pat salmon fillets dry with a paper towel and season each fillet with salt and pepper on all sides.

Rub the skin with oil and brush the other three sides with BBQ sauce mixture.

Place each salmon fillet on the grill skin side down over direct heat and close the lid. Let it cook about 6-8 minutes. Check on the salmon to see if you need to move it over to the cool side if the skin is getting dark too fast.

If you need to, move it over to the cool side, brush with some more BBQ sauce mixture, and cook another 3-4 minutes. To check if salmon is done, you can either touch the top to feel the firmness of the flesh or use a meat thermometer.

To use a meat thermometer to measure the internal temperature, check the thickest part of the fish. Take salmon off the grill when it reaches 135° at the thickest part and let it rest. (USDA recommends salmon safe temperature to be 145° but some people feel that it is overdone.)
Nutrition
Calories:
303
kcal
|
Carbohydrates:
15
g
|
Protein:
34
g
|
Fat:
11
g
|
Saturated Fat:
2
g
|
Polyunsaturated Fat:
4
g
|
Monounsaturated Fat:
4
g
|
Cholesterol:
94
mg
|
Sodium:
320
mg
|
Potassium:
907
mg
|
Fiber:
1
g
|
Sugar:
12
g
|
Vitamin A:
147
IU
|
Vitamin C:
1
mg
|
Calcium:
37
mg
|
Iron:
2
mg