Watermelon Feta Salad is the perfect summer side dish! It features juicy watermelon, shallots, feta cheese, and cucumbers. As delicious as the salad itself is, the best part of the it may just be the balsamic reduction. The combination of watermelon and feta cheese is just heavenly when drizzled with a simple, sweet, and tangy balsamic reduction.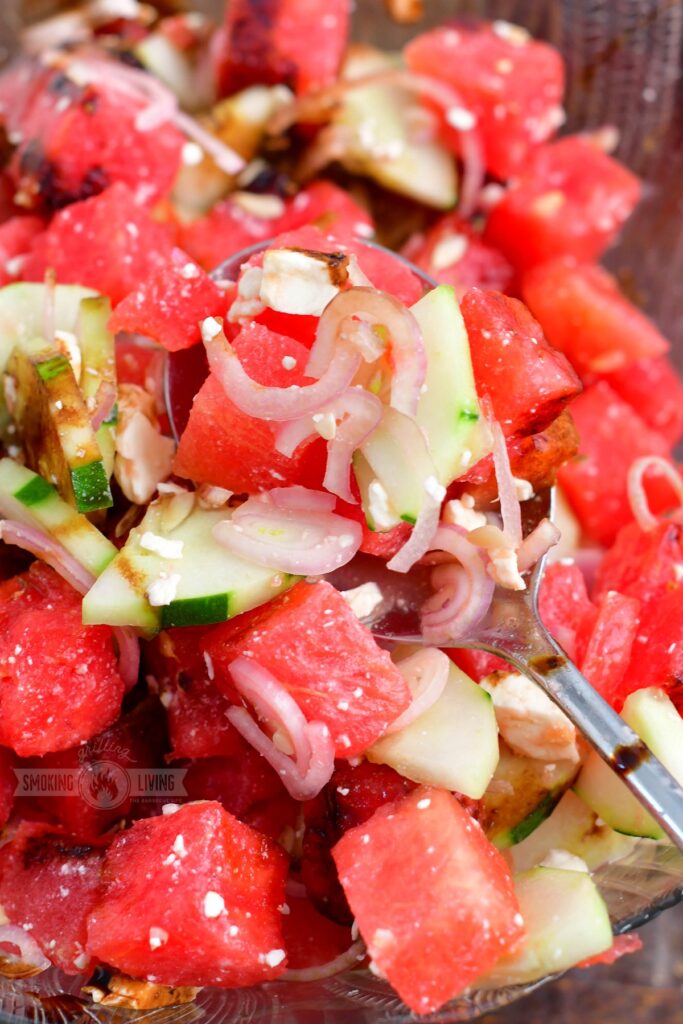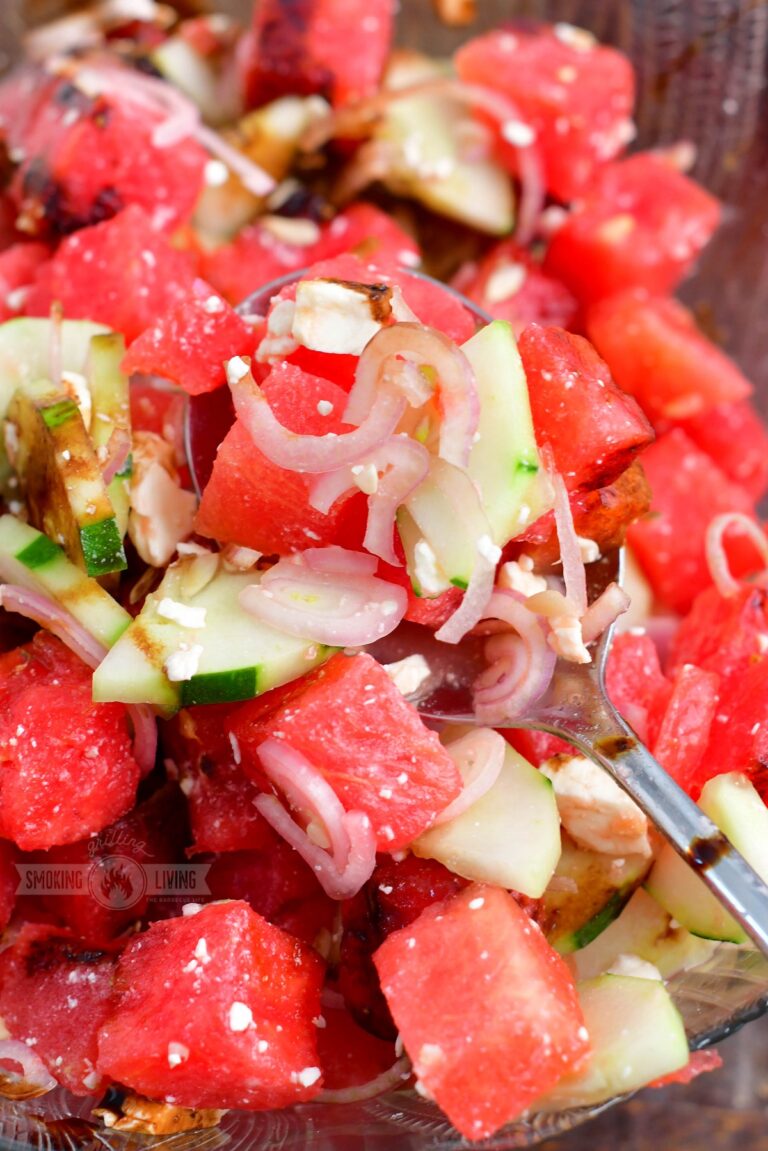 Watermelon Salad
As an appetizer, side salad, or even a light lunch, this watermelon feta salad never disappoints. Summertime is the best time to enjoy fresh watermelon, so run to the store now and grab one while they're at their ripest! Juicy, flavorful pieces of watermelon mixed with salty, soft feta cheese is truly a match made in heaven.
I could keep going about how amazing watermelon and feta cheese are together, but that's not even my favorite thing about this easy salad recipe. No, the real show stealer here is the homemade balsamic reduction! It's honestly so much better than any store-bought balsamic reduction I've ever tried. Made with only balsamic vinegar and brown sugar, it's simple, yet completely satisfying.
This watermelon salad couldn't be better for summertime get togethers and weeknight dinners alike. It's light, refreshing, and easy to eat in the heat. Plus, if you're hosting a backyard barbecue with lots of heavier items like Smoked Pork Shoulder and Ribs, this summery salad will be a welcome refreshing bite.
Ingredients for Watermelon Salad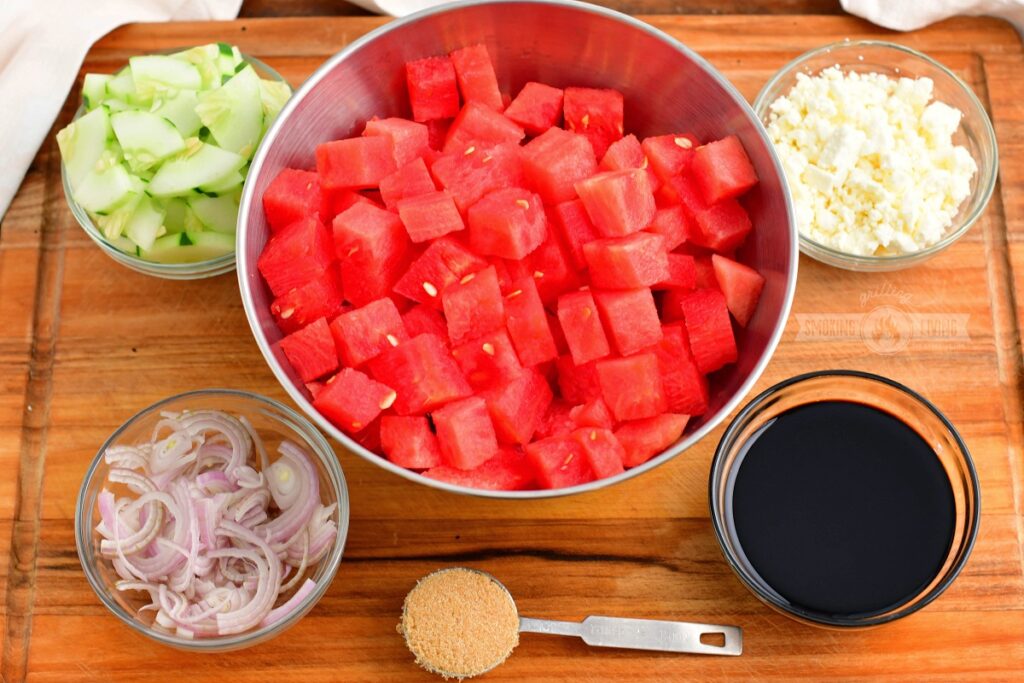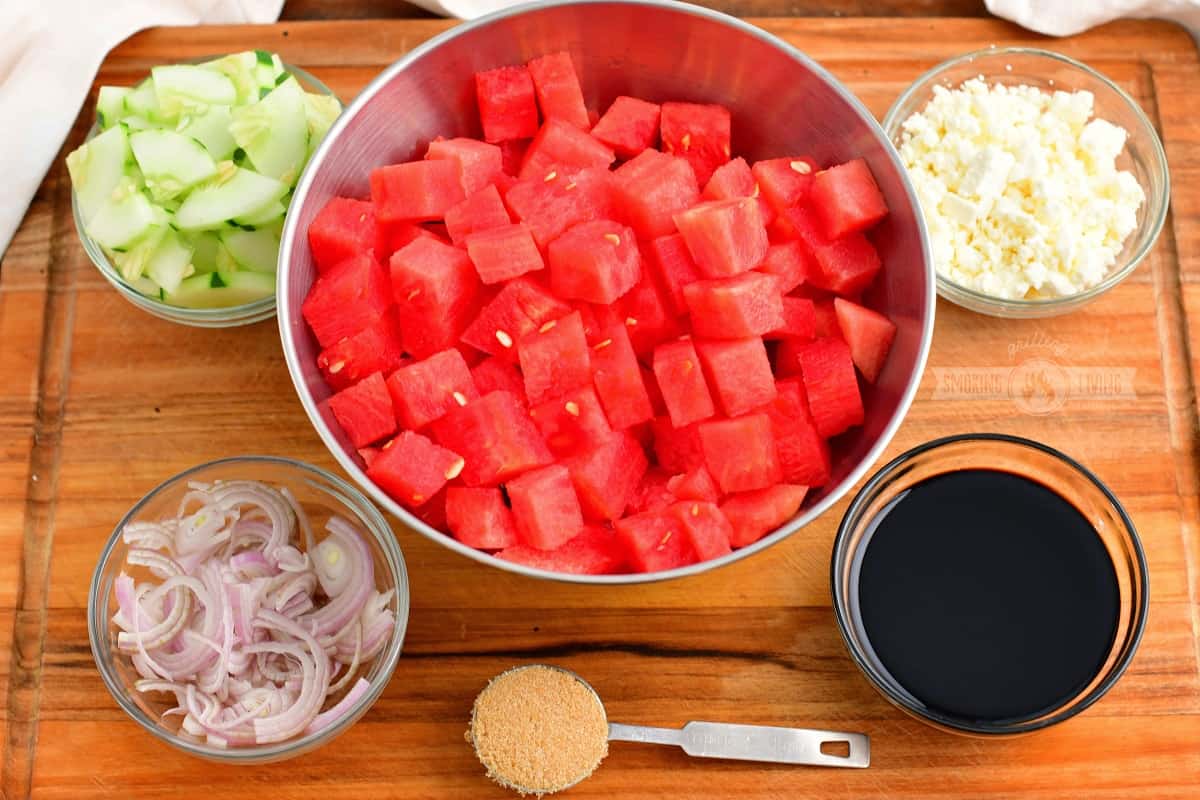 Watermelon – I usually purchase a mini watermelon, around 2lbs in weight, and I have all the fruit I need! However, if you have a larger watermelon and have fruit left over, use it up deliciously by making some Watermelon Frozen Margaritas!
Feta Cheese – This tangy and salty cheese should be crumbled and easy to toss with the watermelon cubes. For best taste, get a block of feta and crumble it yourself!
Shallot – Shallots are known for their delicate, slightly sweet flavor with just a note of potent onion. In a pinch, you could use an equal amount of finely chopped yellow onion in its place.
Cucumber – Use a ripe cucumber for this recipe, that way the pieces mixed throughout are all crisp and crunchy. You can tell if a cucumber is ripe by observing the skin. If the dark green skin is firm and smooth with no wrinkles, it should be good to go!
Ingredients For Balsamic Reduction
Balsamic Vinegar – For the best tasting reduction, get the better quality vinegar. Balsamic vinegar is a very dark and richly concentrated vinegar with great aroma and flavor.
Brown Sugar – Dark or light brown sugar will both taste delicious in this reduction, so just use whatever you have on hand.
How to Make Balsamic Reduction
Combine the balsamic reduction and brown sugar in a small sauce pot. Bring the mixture to a simmer.
Once simmering, reduce the heat and slowly simmer the reduction, stirring occasionally. Allow the mixture to thicken, which should take approximately 7-10 minutes.
Remove the pot from the heat. Pour the balsamic reduction into a separate bowl to help it cool down.
Please remember that balsamic reduction will continue to thicken as it cools! So don't wait for it to be too thick while it's still simmering or it will solidify when cooled.
How to Make Watermelon Feta Salad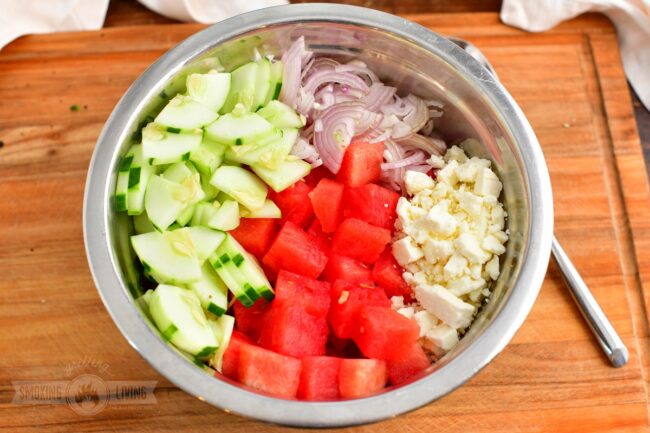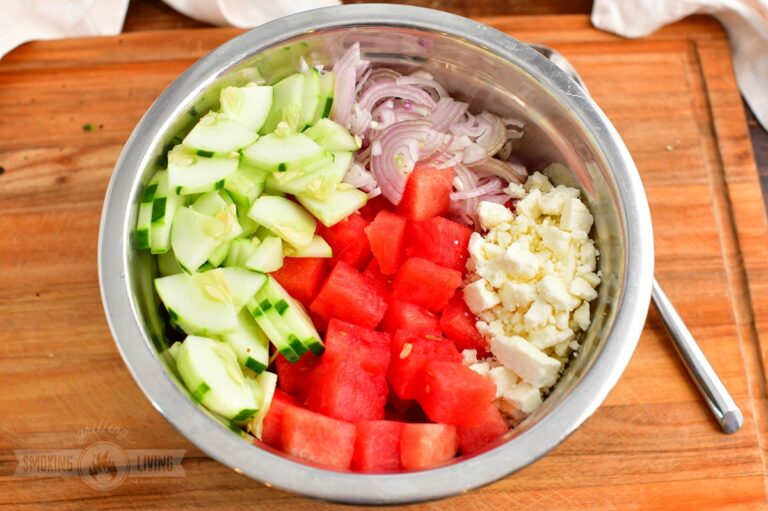 Prepare all of the fruits and vegetables by chopping and slicing them. Then, place them all into a large bowl.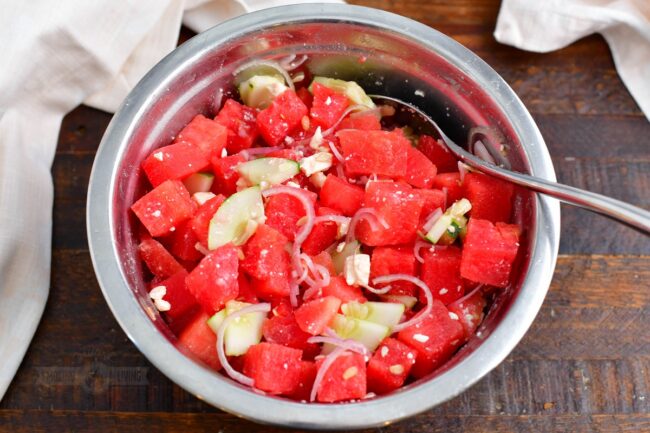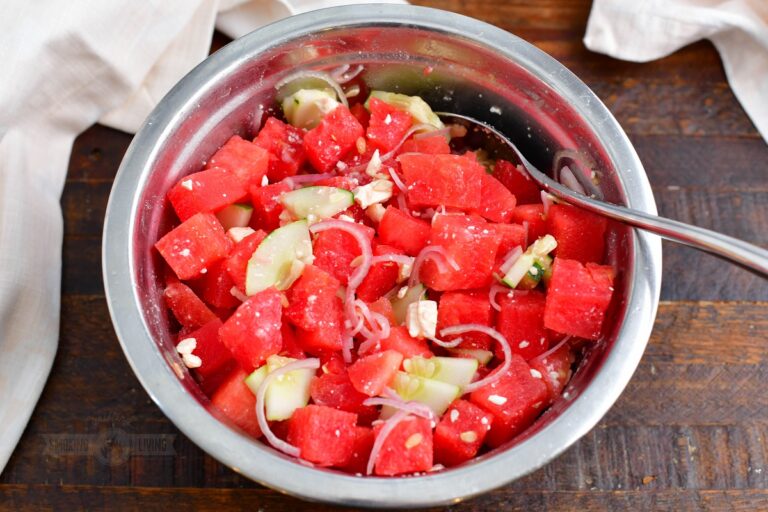 Gently toss everything together until properly mixed. Be careful to not be too quick or rough, as you can squish the watermelon pieces easily.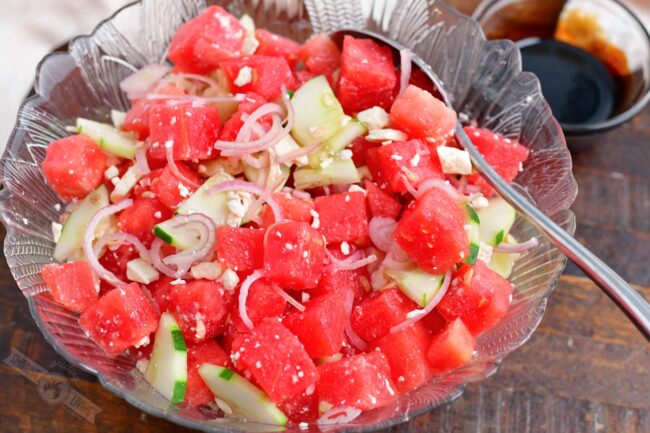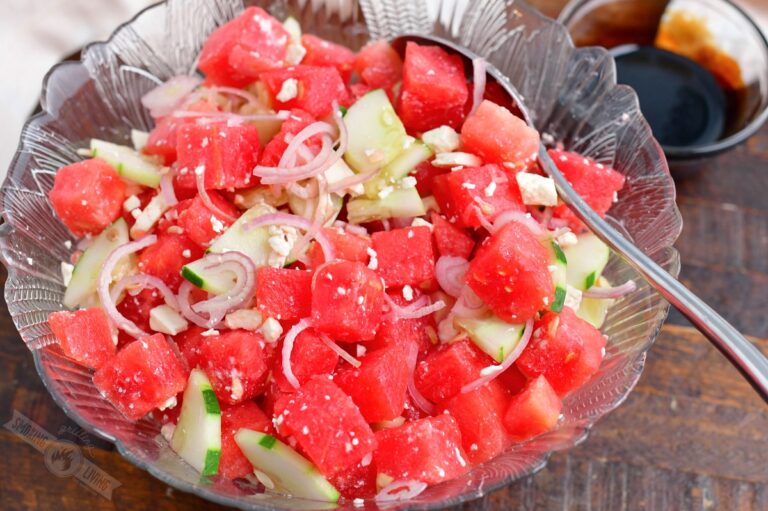 Transfer the tossed watermelon salad to your favorite serving bowl.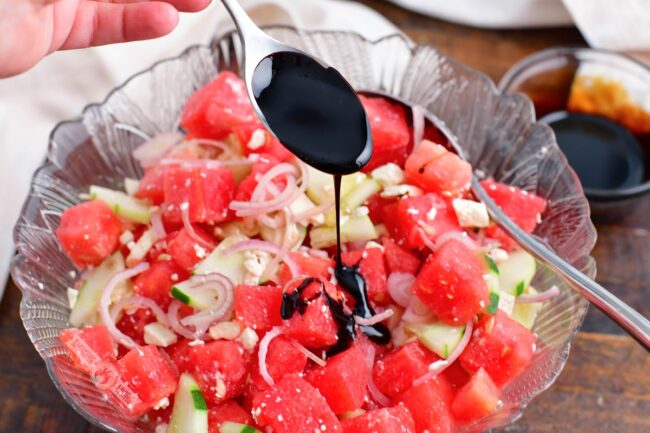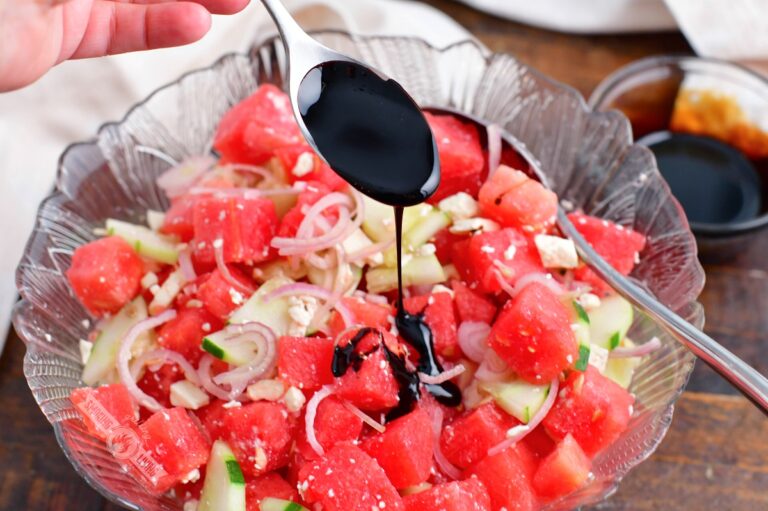 Drizzle the cooled balsamic reduction over the tossed salad, serve, and enjoy!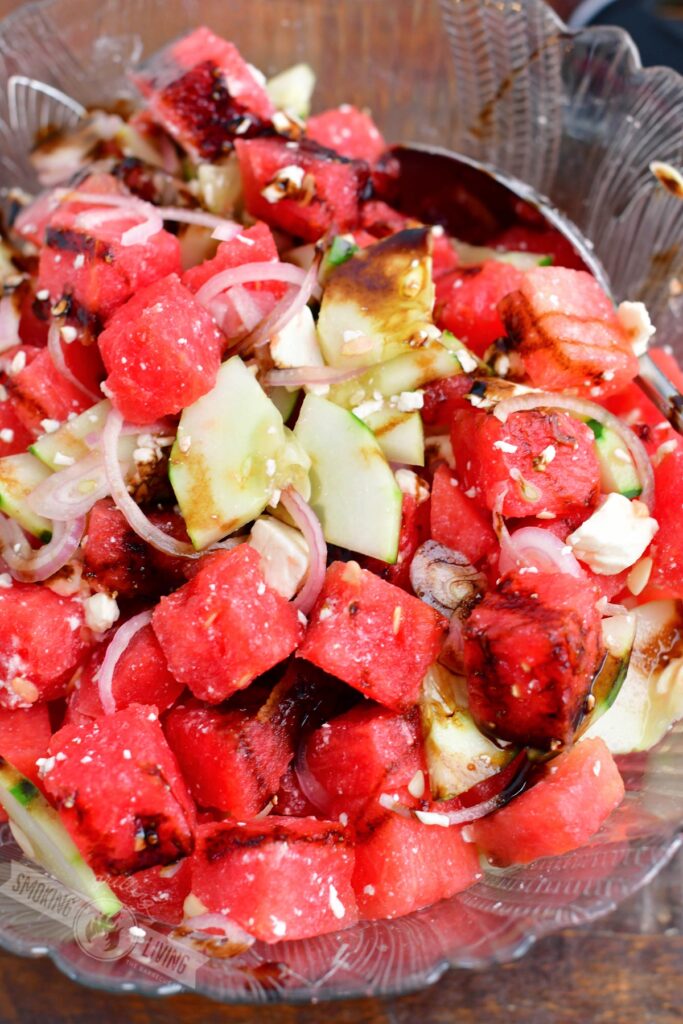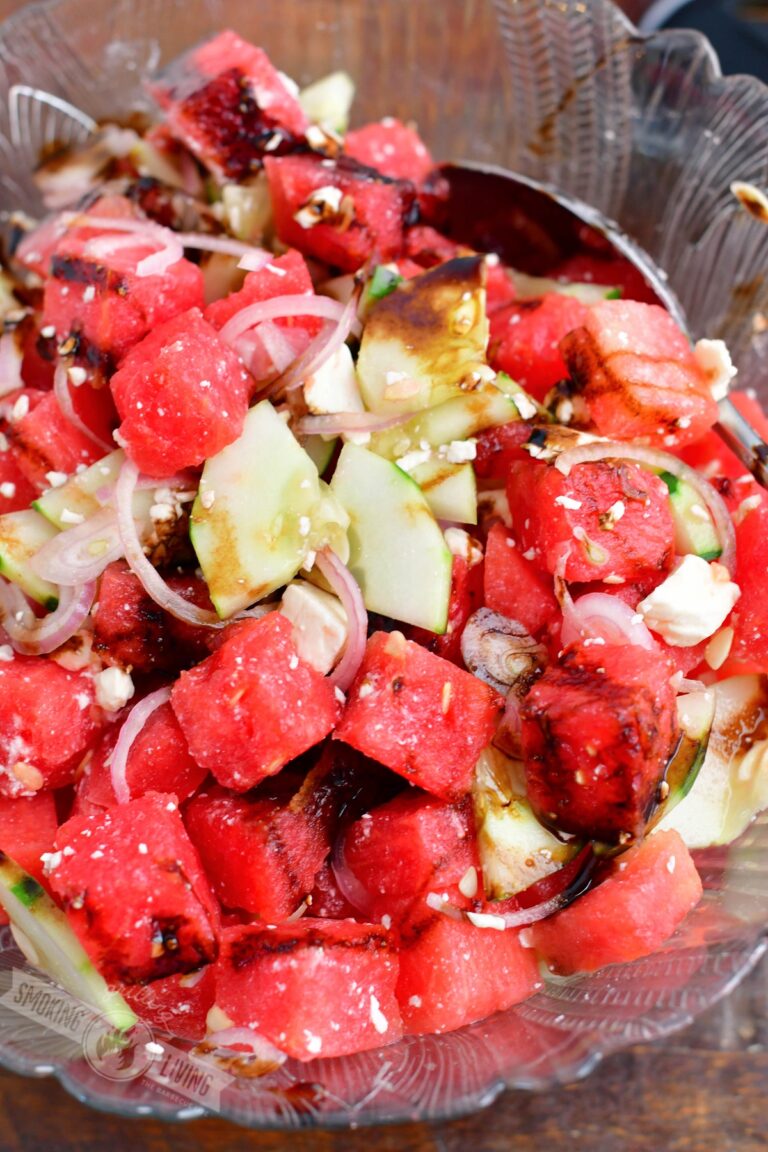 Can I make watermelon salad ahead of time?
I would not recommend mixing watermelon salad together ahead of time, and especially adding the balsamic reduction. You can cube the watermelon and store it in the refrigerator, in an air-tight container. You can can also slice cucumber and onion and store it in another air-tight container, separately from watermelon.
Don't keep it sliced for more than a day because cut vegetables and fruit give out a lot of juice and start to wilt. Put the salad all together when you're ready to serve it, but not too early before.
What does watermelon salad go well with?
This is a delicious side for grilled savory meats like Marinated Grilled Pork Chops and grilled burgers! Just about any chicken recipes off the grill and smoker will be great with this salad like smoked chicken thighs and grilled chicken legs.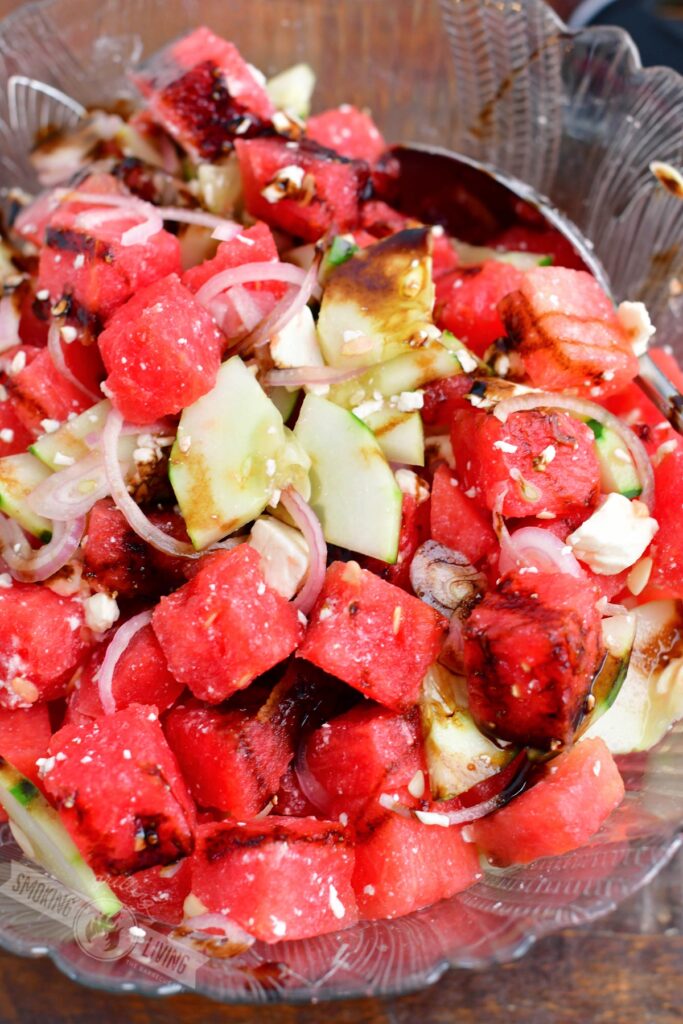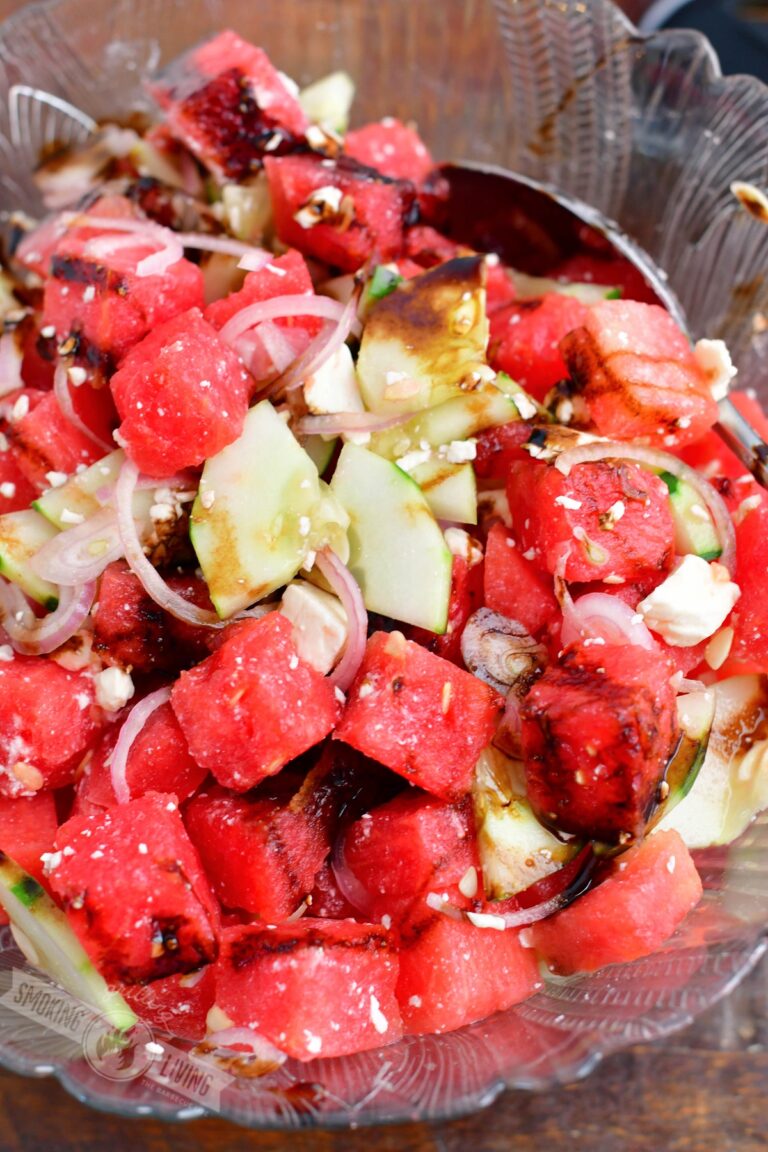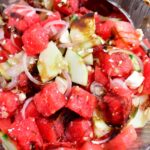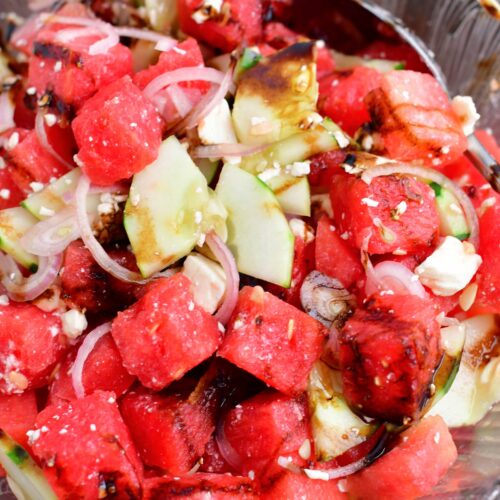 Watermelon Feta Salad
Watermelon Salad is the perfect summer salad that features juicy watermelon, shallots, feta cheese, cucumbers, and balsamic reduction.
Print Recipe
Ingredients
2

lb

mini watermelon

4

oz

crumbled feta cheese

1

shallot

8

oz

cucumber
Balsamic Reduction:
1/2

cup

balsamic vinegar

1

tbsp

brown sugar
Instructions
Balsamic Reduction:
Combine balsamic vinegar and brown sugar in a small sauce pot, over medium heat, and bring mixture to simmer.

Once it starts to simmer, turn the heat down to medium-low. Let vinegar slow-simmer, stirring occasionally, until the mixture reduces and thickens. It should be thick enough to coats the spoon but note that as the reduction cools, it will get thicker. It will take 7-10 minutes but please note, that it will start to thicken fast during the last couple of minutes so keep an eye on it. Also, remember that a reduction continues to thicken as it cools!

Take the pot off the heat and pour the balsamic reduction into a bowl to cool down.
Watermelon Salad:
Cut the watermelon in half and then slice it into slice that are between 1/2 and 1 inch thick. Cut the core off the watermelon and discard. Cube watermelon into cubes and place into a large mixing bowl.

Add sliced shallot, cucumber, and feta cheese.

Use a wooden spoon to gently mix everything until combined and transfer into a serving bowl.

You can drizzle balsamic reduction over the top or serve it along side of the salad so that guests can drizzle some reduction on individual portions.
Nutrition
Calories:
129
kcal
|
Carbohydrates:
19
g
|
Protein:
4
g
|
Fat:
4
g
|
Saturated Fat:
3
g
|
Polyunsaturated Fat:
1
g
|
Monounsaturated Fat:
1
g
|
Cholesterol:
17
mg
|
Sodium:
219
mg
|
Potassium:
273
mg
|
Fiber:
1
g
|
Sugar:
16
g
|
Vitamin A:
967
IU
|
Vitamin C:
14
mg
|
Calcium:
118
mg
|
Iron:
1
mg