Smoked pork ribs is one of the staples of barbecue along side of brisket, pulled pork, and chicken. You want to make the best ribs on the block and I want to share all I can to help you achieve that. Read all about pork ribs right here and learn which ribs you want to smoke, how to choose them, prepare them, and smoke them until they are perfectly tender.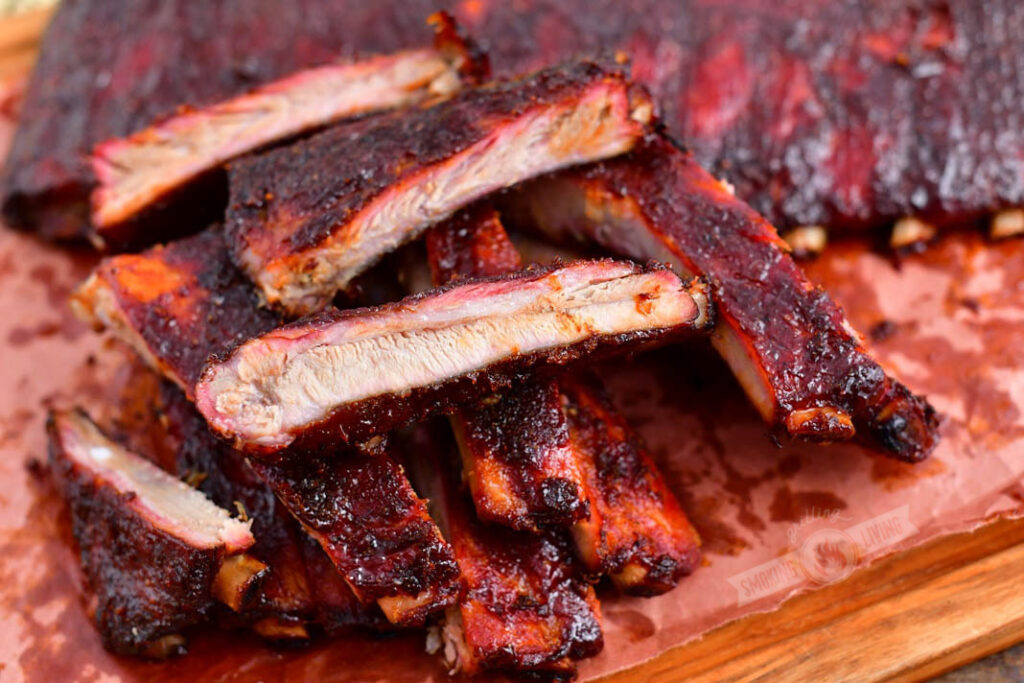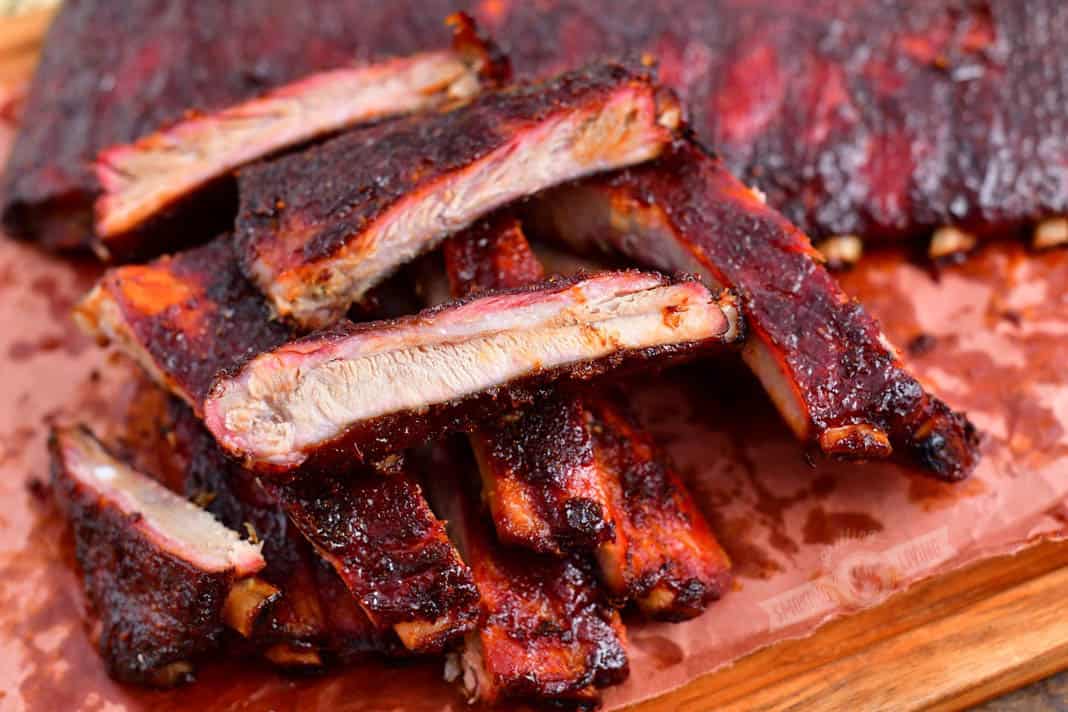 TYPES OF RIBS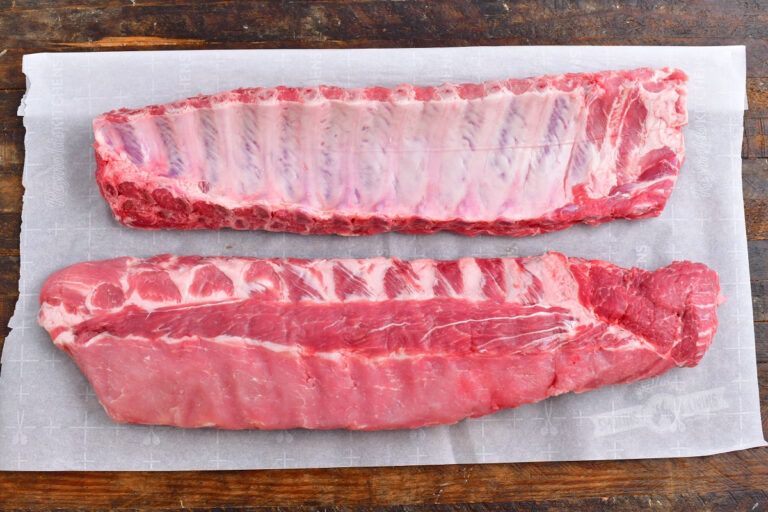 Baby back ribs:
Baby back ribs are the smallest/thinnest of the three types of ribs and come from the upper part of the whole rib, closest to the spine. This is why they are called "baby back," it is in reference to the size of the cut and the location. They do not come from baby pigs! These ribs come from the same area where pork tenderloin is cut. Since it comes from the same area as the tenderloin, these ribs are the most tender and leaner. That's also why there is a higher price tag attached.
A full rack of baby back ribs will usually have 10-16 ribs and they are more curved than spareribs. Each bone in the rack usually measures 3-6 inches long. This cut also contains more meat on the ribs than St. Louis cut ribs.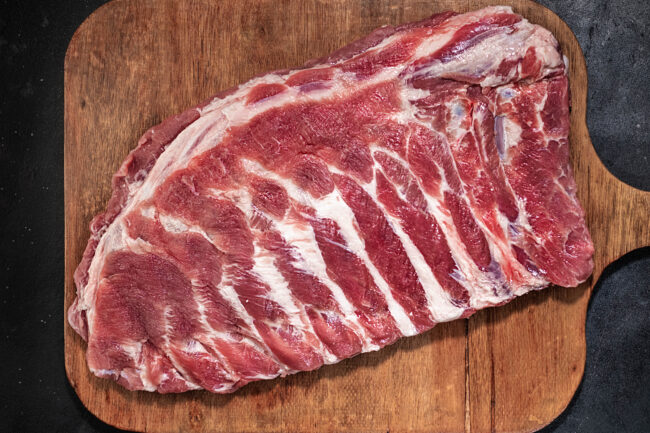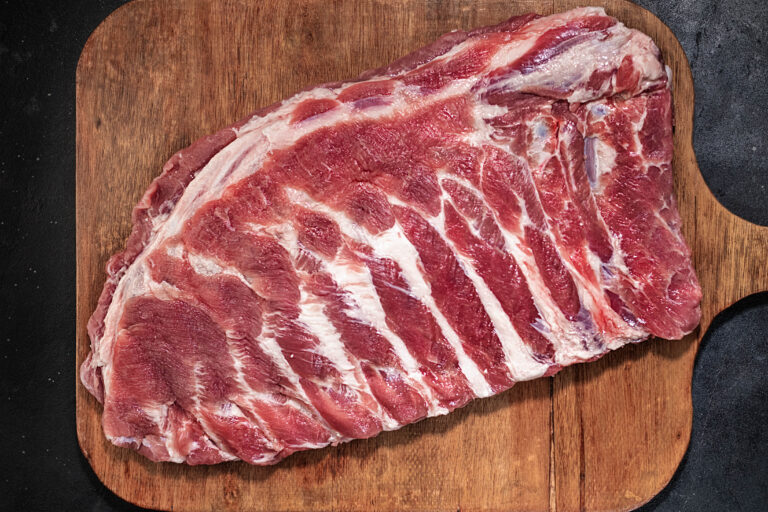 Spareribs:
Spareribs come from the belly and side of the rib and start right where the baby back ribs come off. A full sparerib has a rib tip still attached to it, which is cut away for St. Louis style ribs. These ribs have much larger bones but they also have more fat and marbling between the tissue. There is more meat in between the bones than on top and bottom, unlike in baby backs. Larger bones and more fat is the reason why these ribs are so much more flavorful and why many people actually prefer them to baby backs.
A full sparerib is actually pretty hard to find at grocery stores because they cater to what people are looking for most, and that is ribs that are already trimmed. So most of the time, you will find either baby back ribs or St. Louis cut ribs at the stores. If you really want to get a whole sparerib, check with your local butcher shops.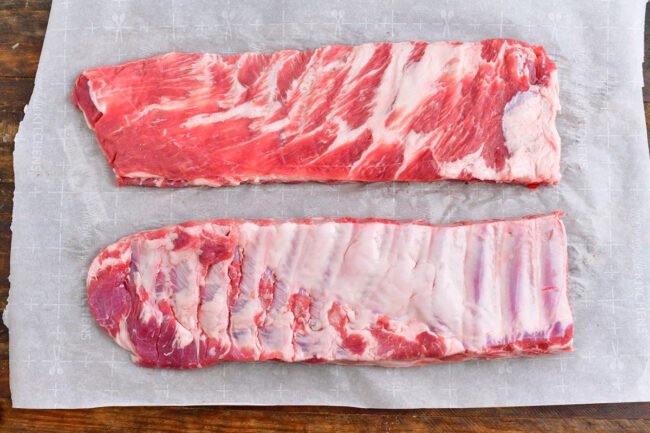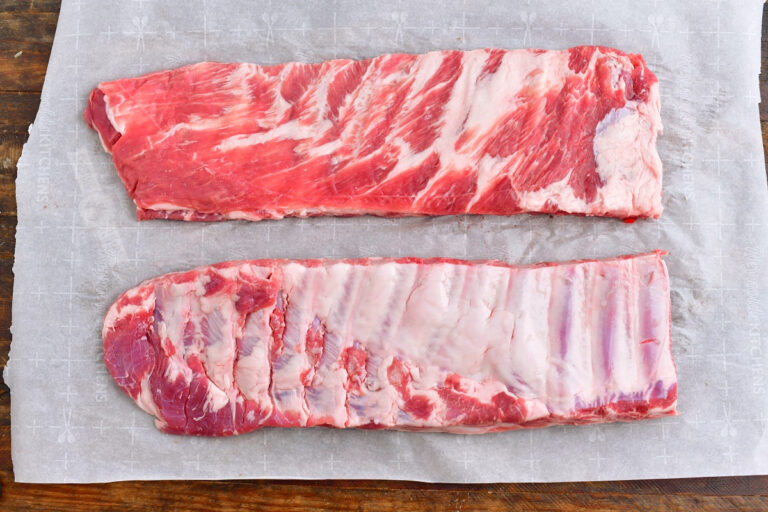 St. Louis Cut:
These ribs are the trimmed down sparerib that has a rectangular, clean shape. When they trim the spareribs, they cut away the breastbone and the cartilages. These ribs are wider than baby backs, thinner, and not as curved. They also contain more fat, which makes them more flavorful. Because of the size and amount of fat, St. Louis ribs usually take a little more time to cook.
What about Country Style Ribs?
Aha, the name is a little confusing here, that's why they are not included with other ribs. Country style ribs are actually cut from the blade end of the loin close to the pork shoulder. They do not contain bone, but rather some of the shoulder blade. These chops are cut into strips resembling rib meat. They are not actually ribs.
ST. LOUIS RIBS VS BABY BACK RIBS
So let's break down the difference between these two common types of ribs to the key points:
St. Louis ribs come from the side of the whole rib, while baby back ribs come from the top.
St. Louis ribs are larger, wider, and less curved than baby back ribs.
When it comes to meat, St. Louis ribs contain more fat, which makes them more flavorful.
Baby back ribs are more tender and leaner.
Baby back ribs are more expensive.
St. Louis ribs can take a little more time to cook.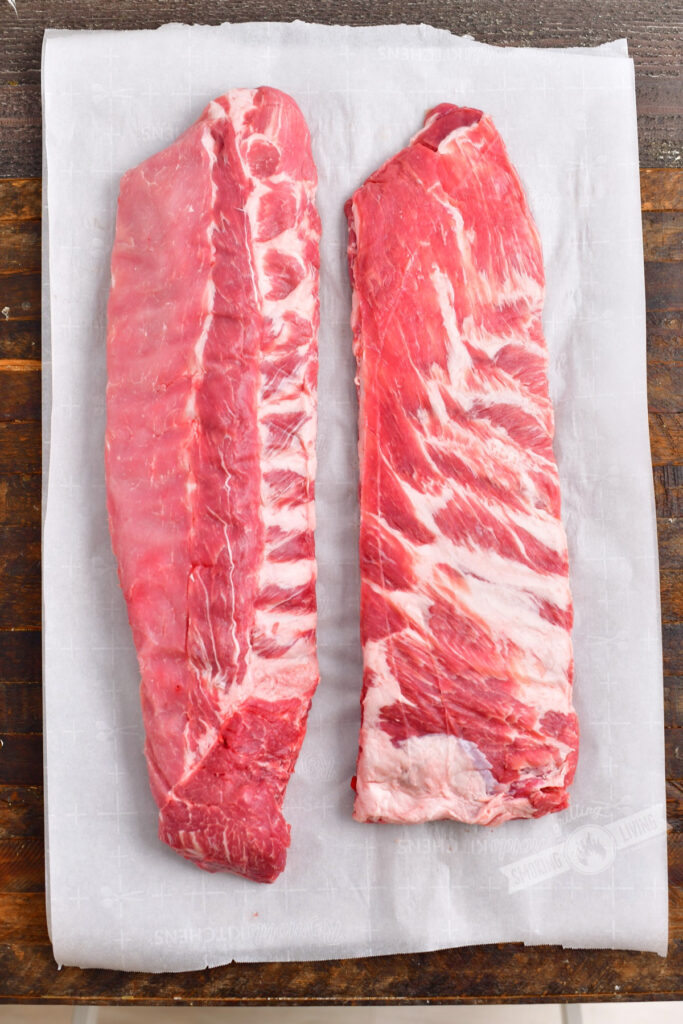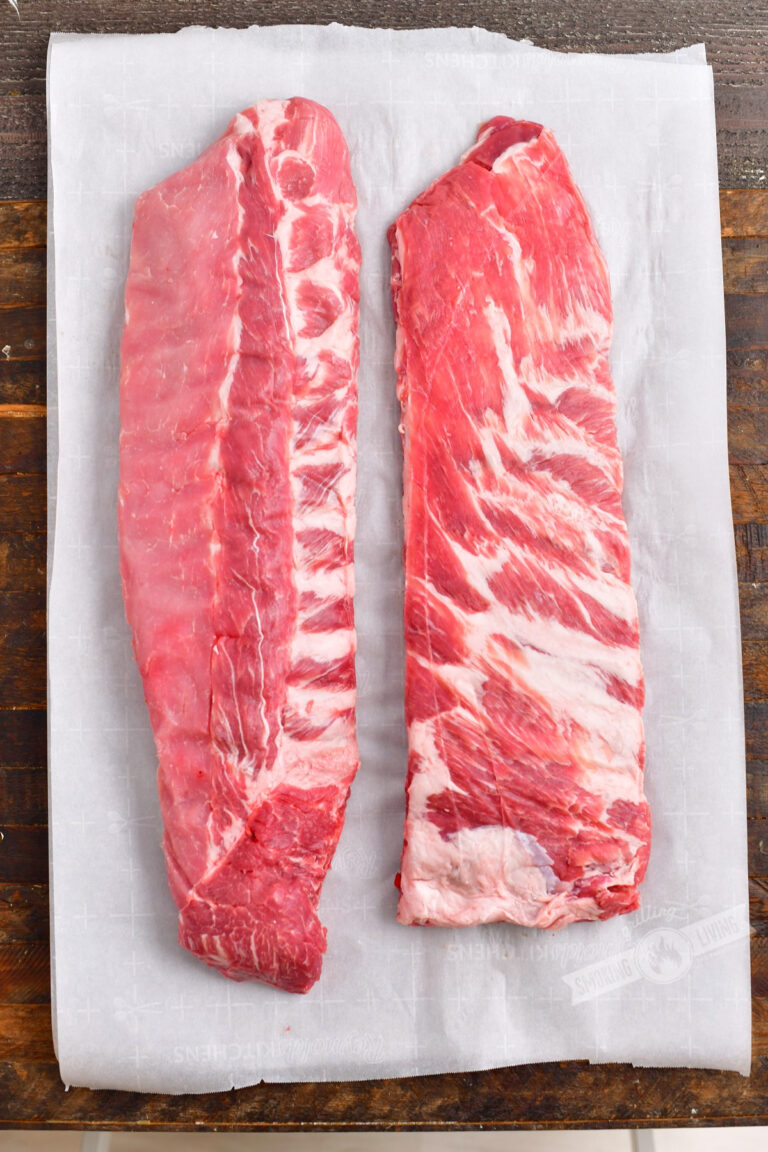 CHOOSING RIBS
When you're looking for ribs at the store, look for those with the best marbling throughout and even amount of meat and fat throughout the rack. Avoid those that have large concentrated areas of fat or those with one end having more meat than the other. This will highly affect the even cooking of ribs.
If buying ribs in a cryovac, make sure that it's completely sealed with no leaks or punctures. After you take the ribs out of the cryovac packaging, discard any liquids left in the package into the trash and pat the ribs dry with a paper towel.
HOW MANY RIBS TO GET
Baby back rack of ribs weigh between 1.75 and 2.5 lbs and St. Louis Cut ribs weigh between 2.5 and 3.5 lbs.
Estimate between 3/4 lb and 1 lb per person, or about 6 ribs of baby back ribs per person and 4-5 ribs of St. Louis ribs per person. St. Louis style rack will give you a little more than baby back ribs because the ribs are longer. An average full rack of baby back ribs can feed 2 people, while a full rack of St. Louis style ribs can feed 2-3 people. But of course, that depends on the size of the rack itself!
Don't forget to take in account other meats and sides that you are serving. If there are other meat options and plenty of sides, you can get away with estimating 3-4 ribs per person.
COOKING PORK RIBS
No matter which cut of ribs you will choose, they all have to be cooked at low temperature and for several hours. You can cook them in the oven, in a slow cooker, in an Instant Pot, and of course, on the smoker. Since we talk grilling and smoking here, that's what I will cover the most.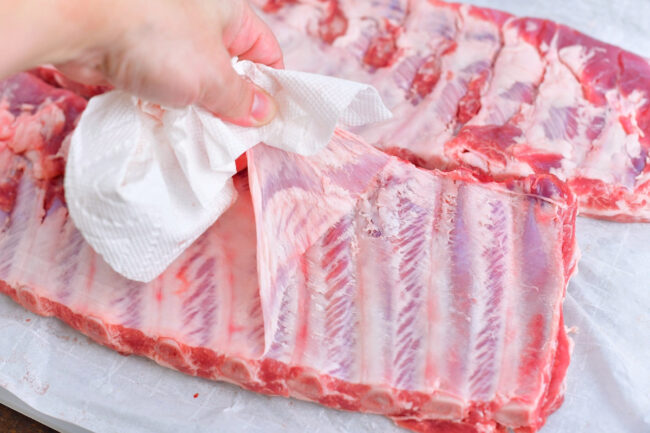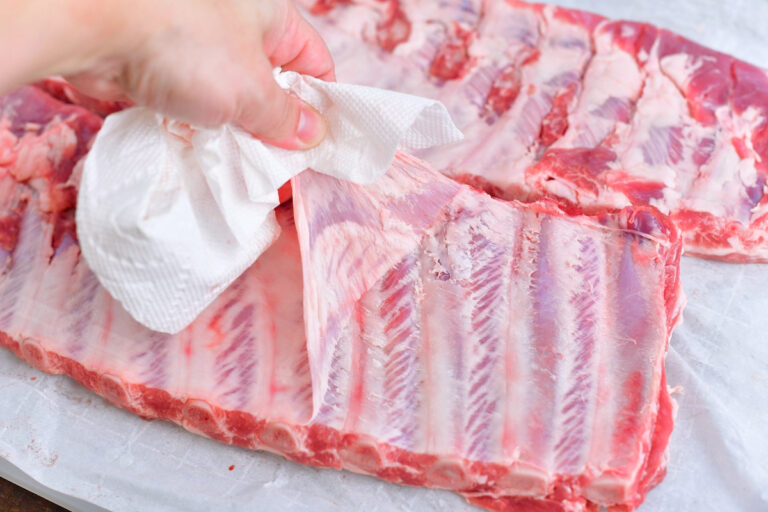 Preparing Ribs – Remove The Membrane
Before you throw that beautiful rib rack onto the smoker, you have to take a few minutes to prepare them. Most of the time, you will have to remove the membrane that runs underneath the ribs yourself but you can also ask your butcher to do it for you.
If it was left on, you definitely have to remove it because it will be tough and chewy. It's a very unpleasant experience biting into a membrane.
To take off the membrane, turn the ribs over onto its back and you will see a thin white covering on the bones all along the rack. Starting at one end, use a small knife to slide right under the membrane and gently pull up, but don't cut it. The easiest spot to get under the membrane is right on the bone and not on the meat.
Grab the membrane with a paper towel. (Paper towel will give you a nice grip so you can hold onto it as you pull.) Slowly but firmly pull the membrane off the entire rib. 9 times out of 10 it will come off nice and smooth with no problem.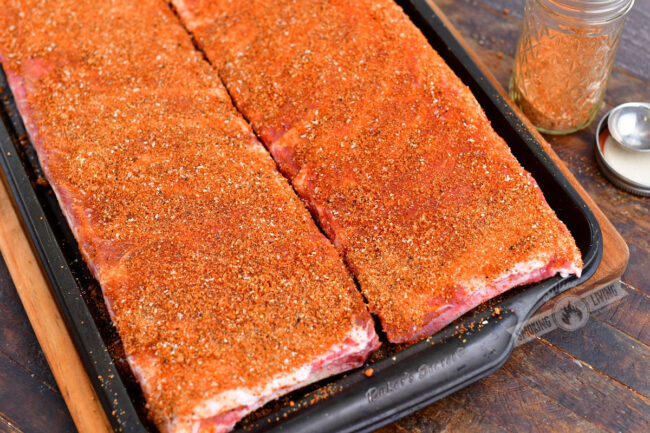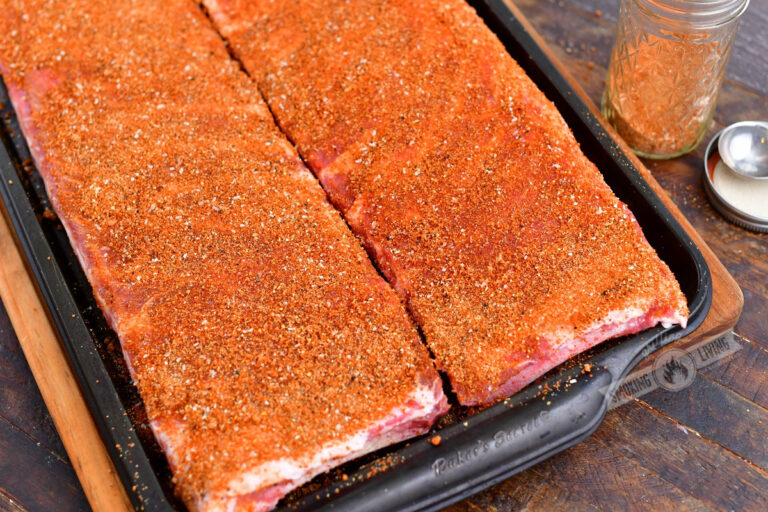 What Temperature To Smoke Ribs?
Stick to the magic 225°. If you're using a charcoal or wood smoker, maintain the temperature no lower than 225° and no higher than 250°. If you're using electric or pellet smoker, simply set it to the 225°.
Methods of Cooking Ribs
Memphis style
Memphis Style Ribs are our personal favorites in my family. There is no need for sweet and sticky sauces slathered all over the ribs, it's all about the rub! Coat these ribs in dry rub, message and pat it in, and leave it covered in the refrigerator overnight. This gives them plenty of time to get those aromatic spices infused into the meat and fat. You can even sprinkle a little more rub during the last few minutes of cooking, to give it an extra kick. You will most often find baby back ribs in a Memphis style, but if you would like to use St. Louis cut ribs, no-one will stop you.
St. Louis Style
This style of ribs is not just the cut but also the method of cooking them. Opposite to the Memphis style, these ribs are coated in sweet and spicy BBQ sauce during the last few minutes of cooking.
3-2-1 Method
This method will give you some extra tender, juicy, fall-off-the-bone ribs. It is probably the most used method of cooking ribs because of the extra tender results and shorter cook time. While in conventional methods, you will leave the cook time up to the ribs themselves, in this method, you will dictate the time.
To make 3-2-1 ribs, you will have to coat the ribs in the rub and then let them cook directly on the grate for 3 hours to soak up all the wonderful smoke flavor. Then you will add some liquid to the foil and wrap each rib rack tightly in foil. Cook the ribs for 2 hours wrapped in foil. For the final hour, you will take off the foil and place the ribs back on the grate to cook for one more hour. Many people will also choose to coat the ribs in sauce at this time.
Want to Use Rib Rubs?
Feel free to coat your ribs pretty generously with the rib rub and make sure to do that on both sides. Whether you choose to use sauce and rub or just the rub, you really do need it. It will give those succulent ribs a ton of flavor and help form the perfect caramelized bark on top of the rib rack. Use your favorite store-bought rub or try my homemade rib rub!
I do recommend that you give the ribs some time in the rub before you place them onto the smoker. I like to give it at least 2 hours and as long as 24 hours. Make sure to cover them air-tight and place them in the refrigerator. When ready to cook, pull them out of the refrigerator and let them warm up a bit on the counter while you prepare the smoker.
What about BBQ Sauces?
As many people as there are who prefer ribs with just the dry rub, there are as many people who love their ribs slathered in a delicious, sweet and tangy BBQ sauce.
St. Louis ribs are most commonly served with a sweet and tangy BBQ sauce slathered generously over both sides. So there is a lot of flavor that comes from the rib rub and then sauce at the end of the smoking process.
When it comes to baby back ribs, you are free to leave them with just the dry rub or coat them with sauce at the end. A huge benefit to leaving the ribs sauceless is the beautifully caramelized bark that you get on top of the rib. If you add sauce, you will, of course, lose the bark.
Just make sure to add sauce during the last 10-15 minutes of the smoke!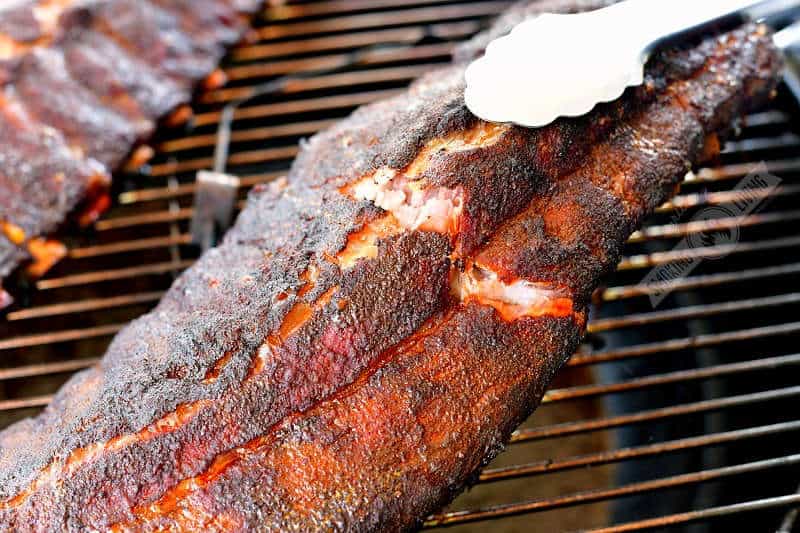 How To Tell If Ribs Are Done
This is the most common question that I come across. How in the world do I tell if the ribs are done? It's quite difficult to check the internal temperature of the ribs on most racks because there is just not enough meat between the bones to tell accurately. So here are some tests that you can do to check your ribs!
Bounce test: Use long metal tongs and slide it to about the middle of the rack. Pick up the rib rack and give it a gentle bounce. If the rack feels a little rubbery and the meat on top does not crack, the ribs are not ready. They will probably need 1-2 more hours. If the ribs can bend easily to almost 90 degrees and start to crack at the top pretty easy, they are done.
Meat pulling away from the bone: use gloves and try to pull two bones apart. If the meat releases off the bone easily, they are done.
Toothpick test: if you are familiar with baking, you know the toothpick test. Poke a toothpick in between the rib bones all over the rib rack to feel how easily it slides in and out. If there is little to no resistance, the ribs are done.
Temperature: even though it's hard to test the temperature accurately, you can still test several larger meat areas of the rib rack (between the bones) and make sure that it's at least 145° but these won't be pulling away or falling off the bone. To take them to that kind of tenderness, get the ribs to 190°-203°.
The bones: sides of the rib rack are great indicators to see if your ribs are done. The meat should pull back from the tips of the bone on the side at least 1/4 inch, exposing the bone ends. But don't rely on this test alone!! Bend test and temperature is much more reliable so perform those tests as well.