Take your smoked sausage to a whole new level when you wrap it in bacon and add a little brown sugar and pepper. This is a whole new sausage experience that you don't want to miss. It's a little sweet and has a little bite from the pepper that enriches the overall flavor of sausage.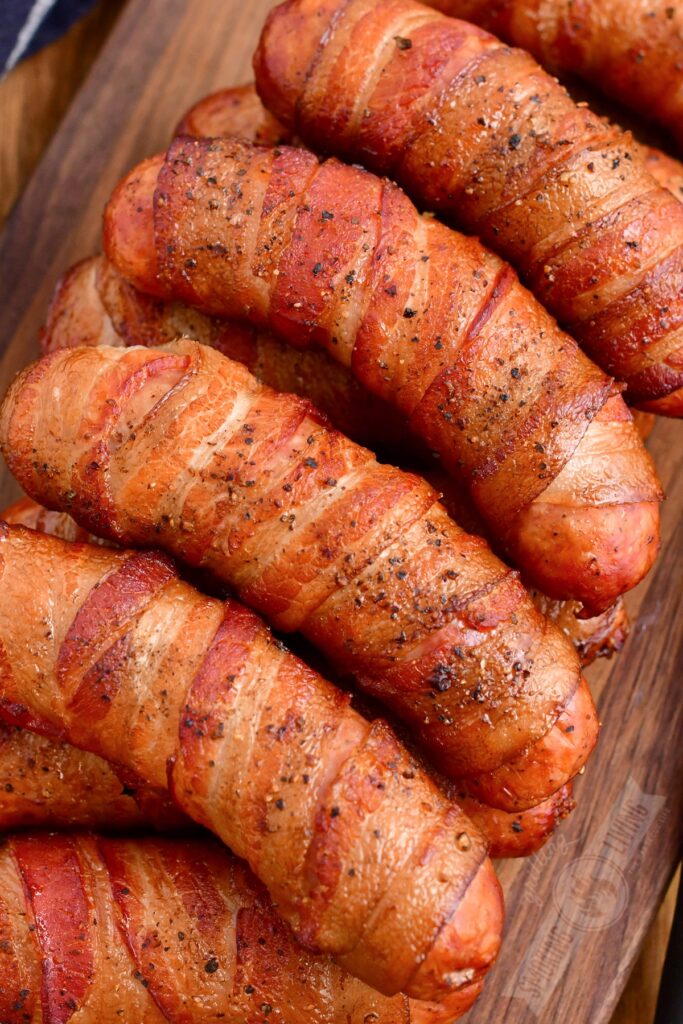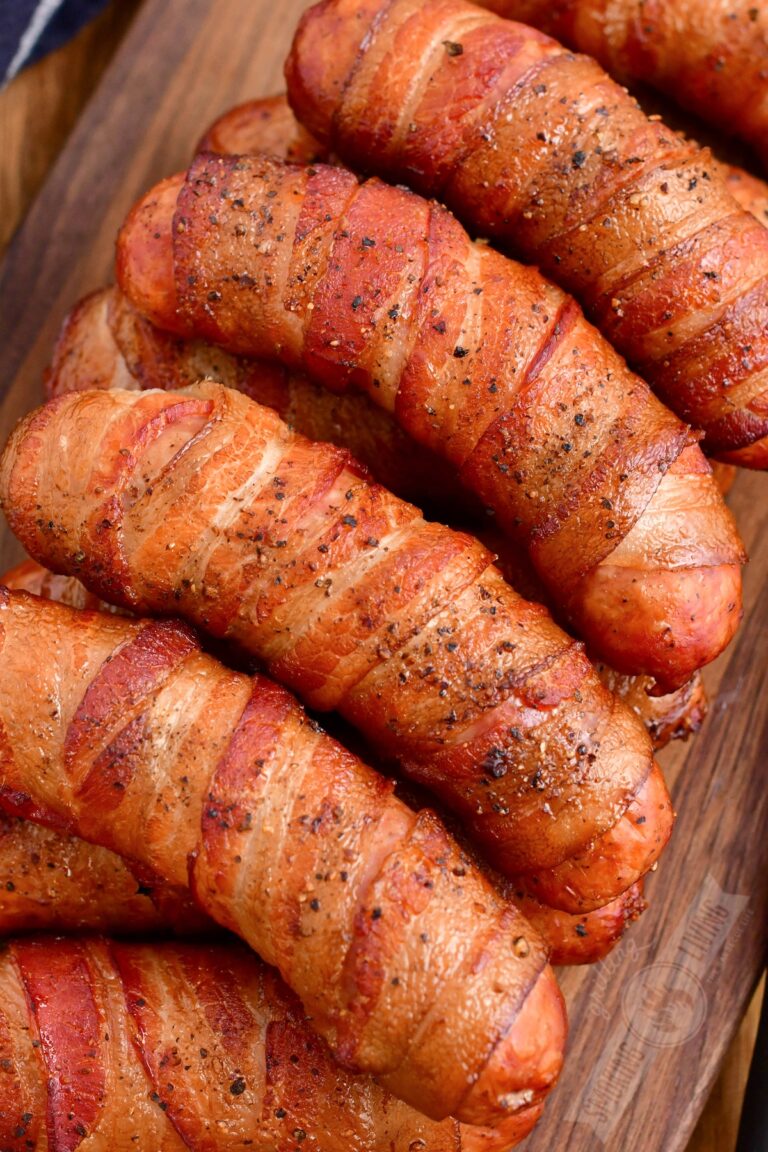 BACON WRAPPED SMOKED SAUSAGE
Smoking sausage is like taking your "hot dog game" to another level and when you wrap it in bacon, you take your game all the way to the top! Your family and friends will go crazy over this recipe so make it for your next barbecue. It's not just the delicious sausage but also the crispy smoked bacon wrapped around it and a slight sweetness from brown sugar in between sausage and bacon.
We don't normally have any leftovers when I make this sausage recipe for the family but if you happen to make extra, there is so much you can do. You can use it in other recipes like mixed with rice and vegetables, sausage and zucchini, sandwiches and hoagies, pasta dishes, and any breakfast dishes.
All you need to make this amazing sausage recipe are four ingredients. Combine some of your favorite bacon, your favorite sausage, brown sugar for a sweet flavor balance, and some fresh cracked black pepper to give it zest.
QUICK SMOKING NOTES
How Much Sausage Per Person?
Depending on the size, estimate 1-2 links per person.
How Long Does Sausage Take To Smoke?
On average, sausage will take about 2 hours to smoke. (Some larger and thicker ones can take up to 3 hours.) Different types of sausage can vary in time though and that is why it's best to use an instant read thermometer to check internal temperature.
What Is The Temperature Of The Smoker?
I normally don't deviate much from the magic 225°. If using a charcoal/wood smoker, try to maintain temperature between 225°-240°. Don't go over 240°.
When Is Smoked Sausage Done?
Sausage should be cooked to 165° internal temperature. Use an instant read thermometer and insert it through the end, towards the center.
What Is The Best Wood For Smoking Sausage?
First, decide if you want a strong flavor, a mild one, or a fruity one. For a stronger wood flavor, go with hickory. When sausage has a strong flavor, I go with fruity wood like apple. If you want a milder but not fruity wood flavor, use pecan.
What sausage can I smoke?
There is truly not a lot of sausage out there that will not be good smoked. The only sausage I would not smoke is one that's already smoked at the factory and is fully cooked.
Feel free to smoke any of these sausages: any Italian sausage, bratwurst, breakfast sausage, kielbasa, chicken sausage, beef sausage.
Be careful when choosing flavored sausages, make sure the flavor of sausage will go with bacon and sugar. Some sausages come in crazy flavors.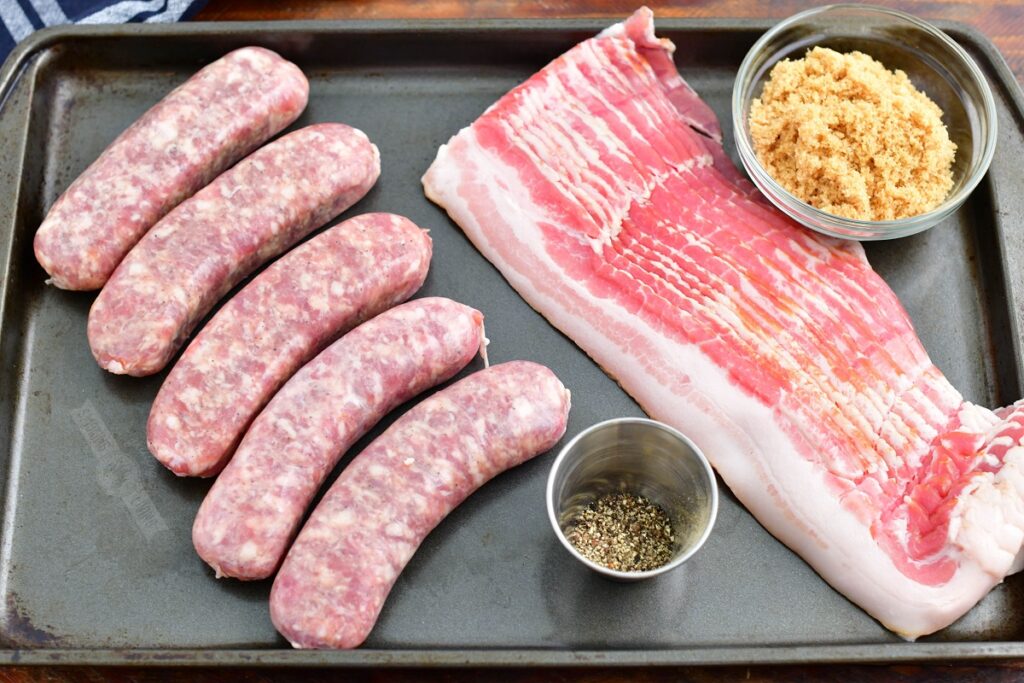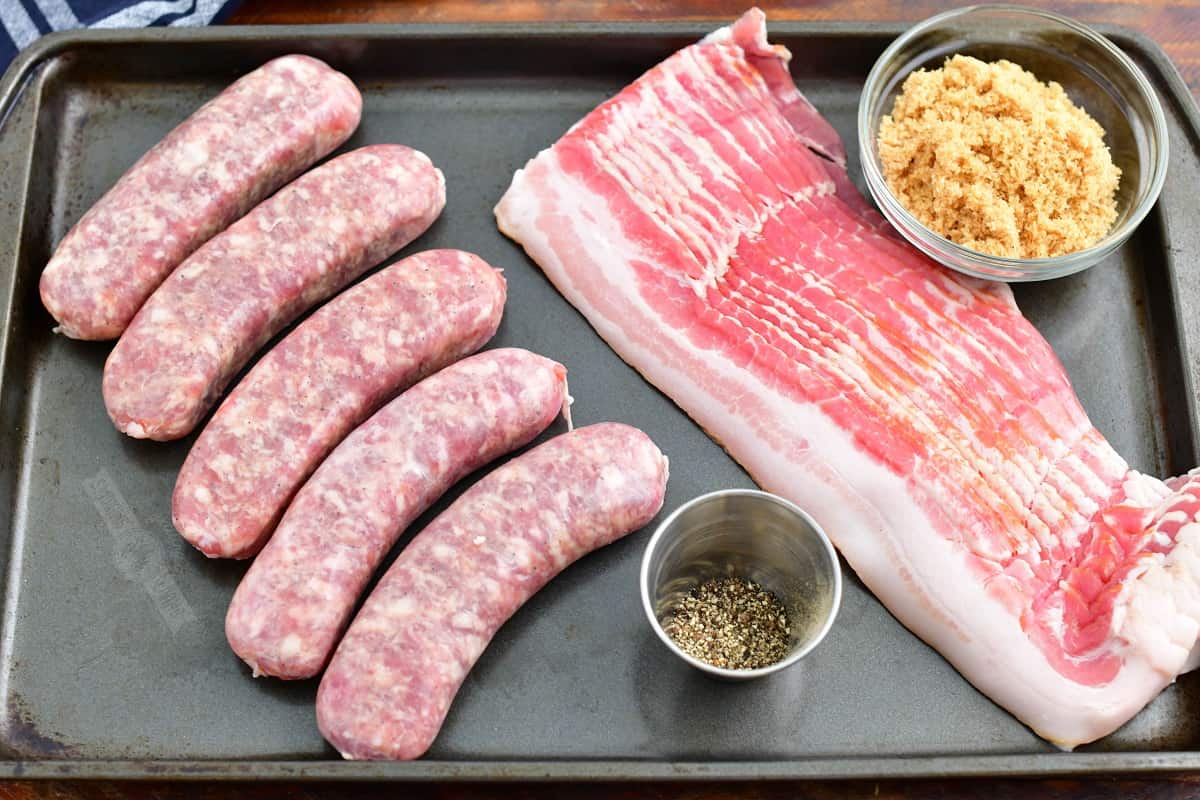 HOW TO MAKE THIS SMOKED SAUSAGE
Prepare the smoker and preheat it to 225° first. You can wrap the sausage while the smoker is preheating.
Depending on the smoker, place a pan with water underneath or near the sausage.
Lay out bacon strips on a cutting board and spread some sugar on each bacon strip. Wrap 1 to 1 1/2 bacon strips around each sausage, tucking in the edges. Make sure the sugar is on the inside, between the sausage and bacon.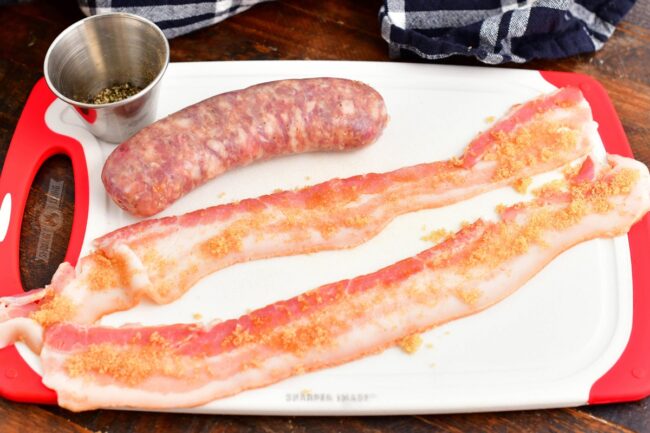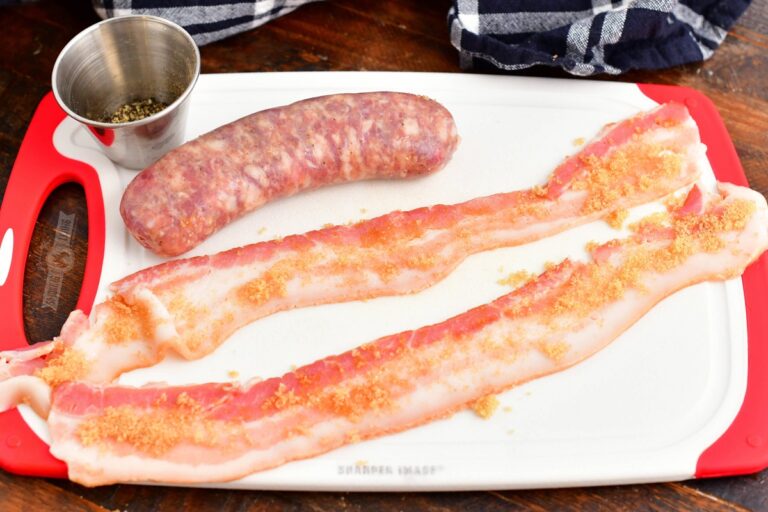 Sprinkle some fresh cracked black pepper around the wrapped sausages and lay sausages on the grate. Make sure they are not touching each other. Close the lid and smoke it for about 2 hours. (Larger and thicker sausage may take up to 3 hours.)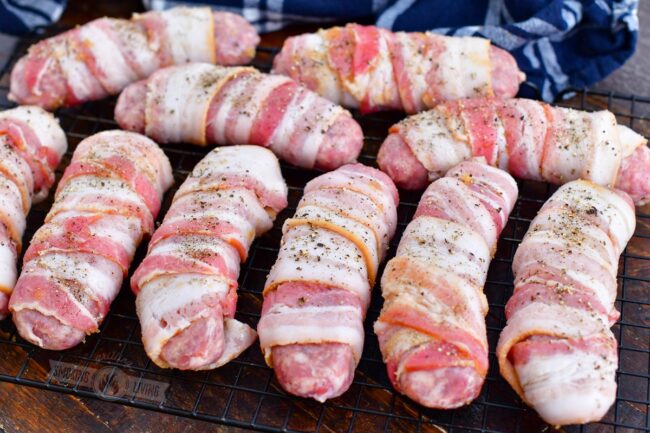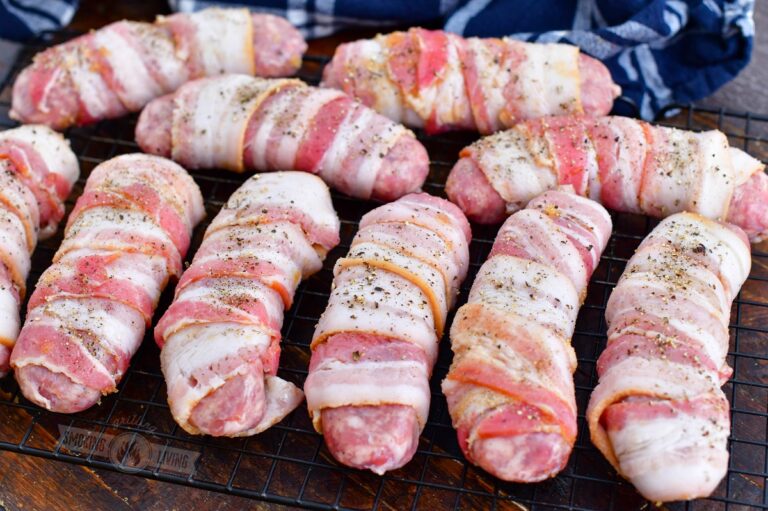 You can insert a digital thermometer probe into the end of the sausage, towards the center, to monitor the temperature.
NOTE: It's best to open the smoker as little as possible so it doesn't lose heat and lower temperature. This is especially true for charcoal/wood smokers vs electric and gas. Since it's harder to keep the temperature steady. So this is when a leave-in meat thermometer comes in very handy.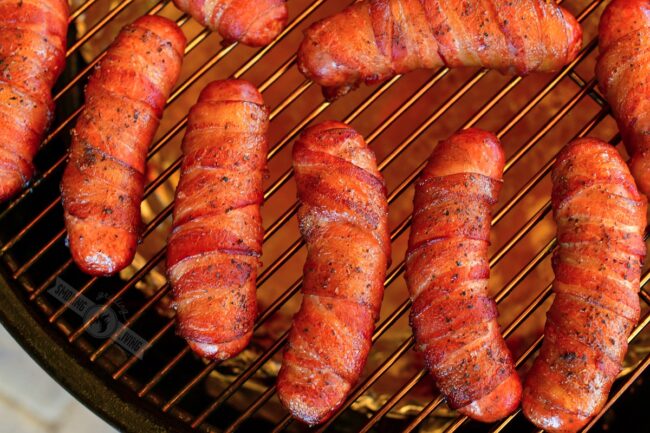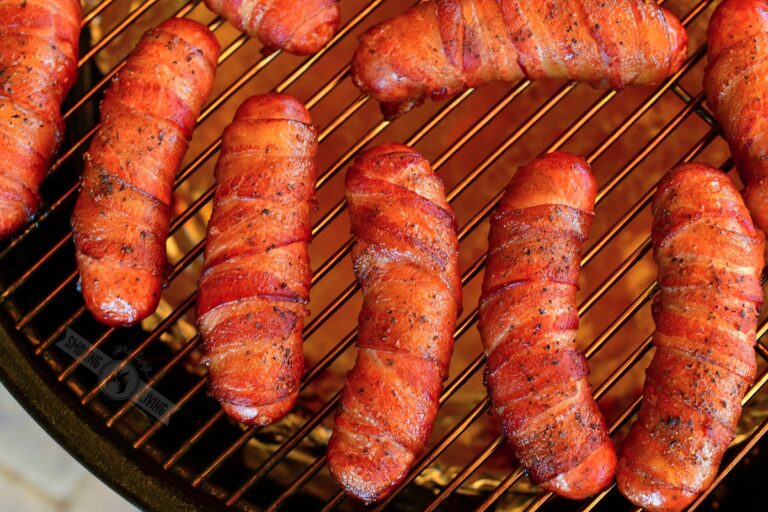 STORING AND FREEZING
Store leftover cooked smoked sausage in an air-tight container, in the refrigerator. Properly stored, it should last up to 4 days.
To freeze smoked sausage, wrap it air-tight in plastic wrap and place them into a freezer zip-lock bag. Get all the air out, label, and freeze for up to 2 months. Thaw it slowly in the refrigerator.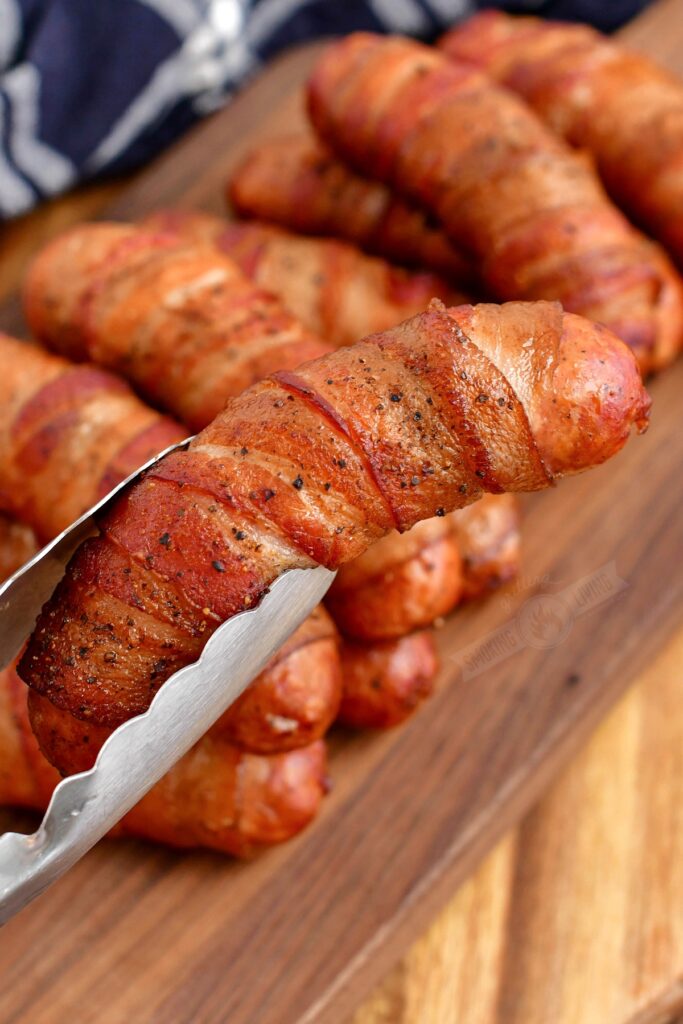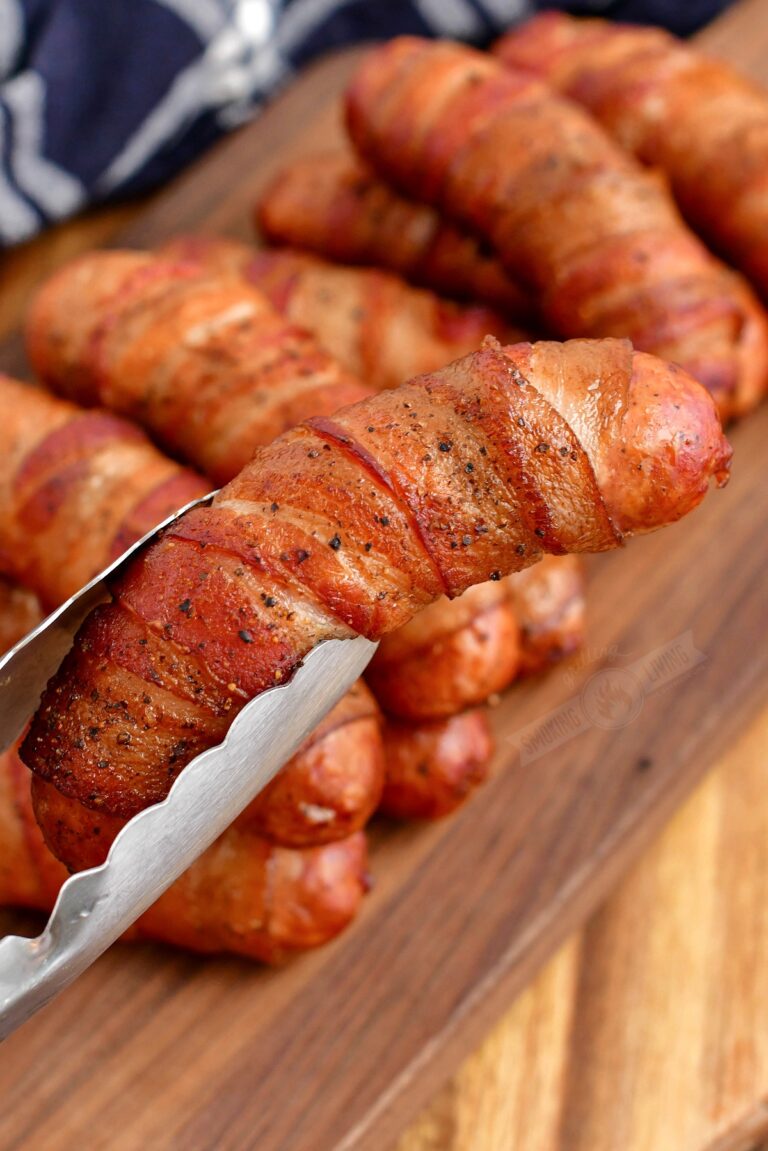 OTHER QUICK AND EASY RECIPES TO SMOKE
Smoked Meatballs is one of my family's absolute favorite smoked recipes. You can make it with my BBQ sauce or another favorite sauce.
Take your meatballs game to the next level with this Smoked Meatloaf topped with BBQ sauce.
Smoked Chicken Wings is always a great party food and you can toss them in sauce or leave them naked.
For fast and easy dinners and lunches through the week, make extra Smoked Chicken Breast and store it.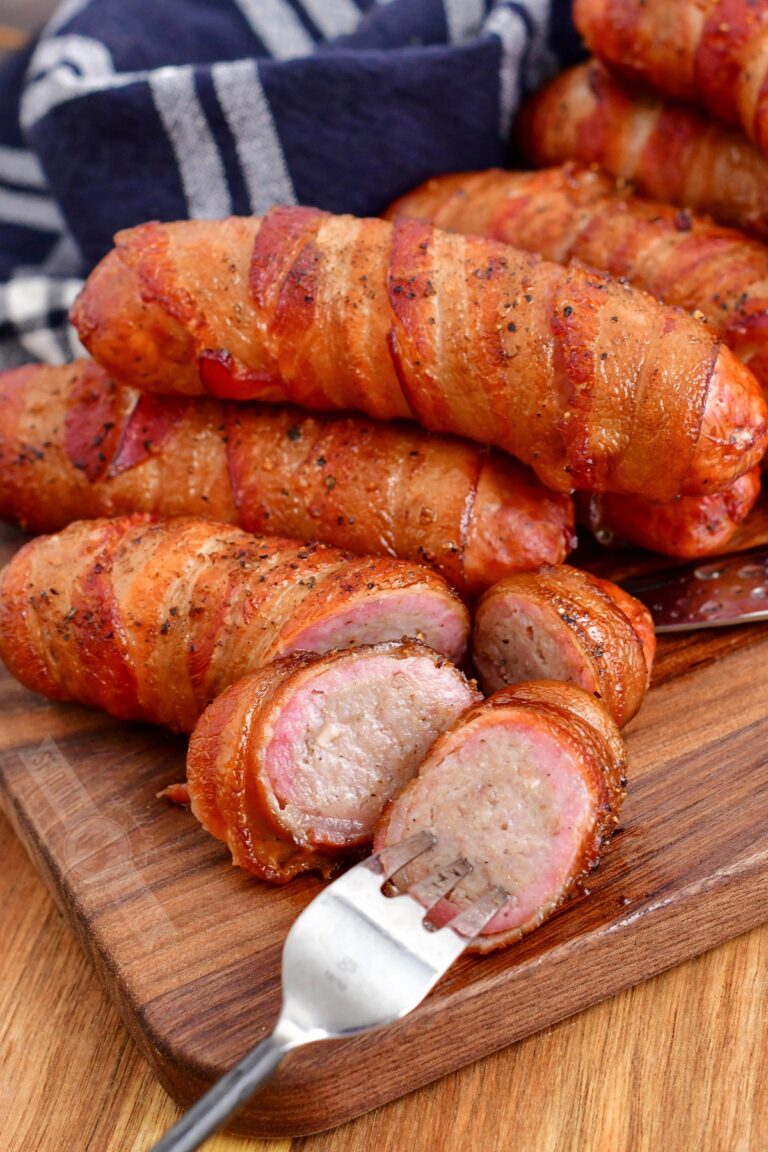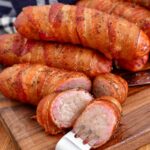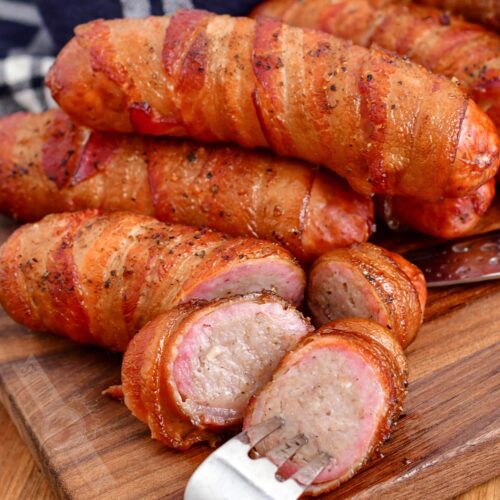 Bacon Wrapped Smoked Sausage
Take your smoked sausage to a whole new level when you wrap it in bacon and add a little brown sugar and pepper.
Print Recipe
Ingredients
2-2.5

lbs

Italian sausage, kielbasa, bratwurst, or any other sausage

1-1.25

lb

bacon

1/2

cup

brown sugar

1 1/2

tsp

fresh cracked black pepper
Instructions
Start by preparing the smoker first and preheat it to 225°. (Wrap the sausage while the smoker is preheating.)

Depending on the smoker, place a pan with water underneath or near the sausage.

Lay out bacon strips on a cutting board and spread some sugar on each bacon strip. Wrap 1 to 1 1/2 bacon strips around each sausage, tucking in the edges. Make sure the sugar is on the inside, between the sausage and bacon. 

Sprinkle some fresh cracked black pepper around the wrapped sausages and lay sausages on the grate. Make sure they are not touching each other.

Close the lid and smoke it for about 2 hours. (Larger and thicker sausage may take 3 hours.)

The best way to tell if your sausage is done is to use an instant digital read thermometer with a leave-in probe. Insert the digital thermometer probe through the end of the sausage, towards the center, to monitor the temperature. Sausage is done when it reaches 160° internal temperature. (If smoking chicken or turkey sausage, get it to 165°.)
Nutrition
Calories:
546
kcal
|
Carbohydrates:
12
g
|
Protein:
19
g
|
Fat:
46
g
|
Saturated Fat:
16
g
|
Trans Fat:
1
g
|
Cholesterol:
99
mg
|
Sodium:
967
mg
|
Potassium:
338
mg
|
Fiber:
1
g
|
Sugar:
11
g
|
Vitamin A:
18
IU
|
Vitamin C:
2
mg
|
Calcium:
29
mg
|
Iron:
1
mg