What type of coals should I use? If you've wondered that before starting to grill, you've come to the right place. Let's talk about the two most common types of coal you will need for the grill. (I will leave out all the fancy and "special order" stuff out of it.)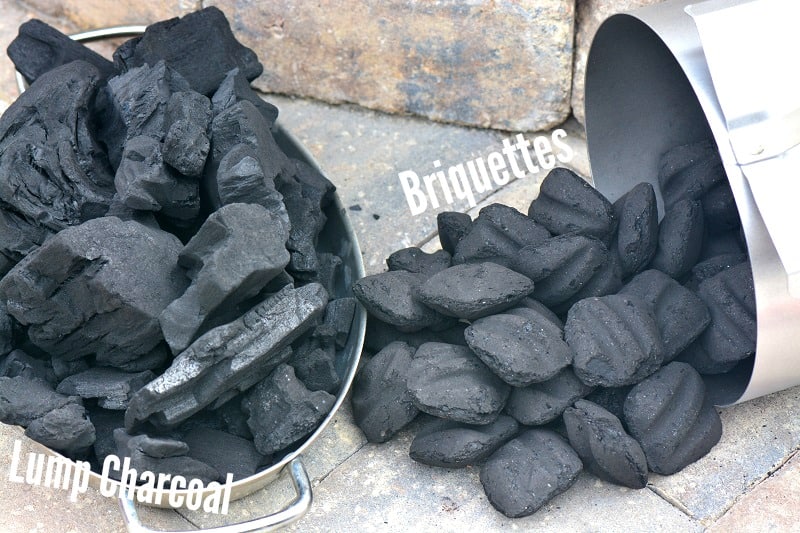 TYPES OF COALS FOR GRILLING
It's the weekend and you're excited to grill some meat! But first, have to run out to the store and pick up coals and whatever it is you will be grilling. You find the isle with the coals and your eyes start to run in different directions. There are bags and bags of different coals on every shelf for most of the isle. "Oh, man, which coals should I get?"
First of all, step away from the match-light coals and don't even make eye contact. You don't want that! After all, you have a handy-dandy chimney starter that makes starting coals a breeze. In match-light coals, there are paraffin, petroleum products, or other accelerates that you don't want near your food because it does transfer to it even after the coals have been lit. The taste of lighter fluid also transfers to food cooking on the grill so it's best to stay away. So look for the most natural coals without any stuff added to it.
Try to stay away from coals with "bling," that have flavors and additives, and use wood chips and chunks in addition to the coal in you wish. Look for charcoal briquettes that have the fewest amount of additives in them, basically as natural as you can find.
There are two main types of coals to look at: lump coal and charcoal briquettes.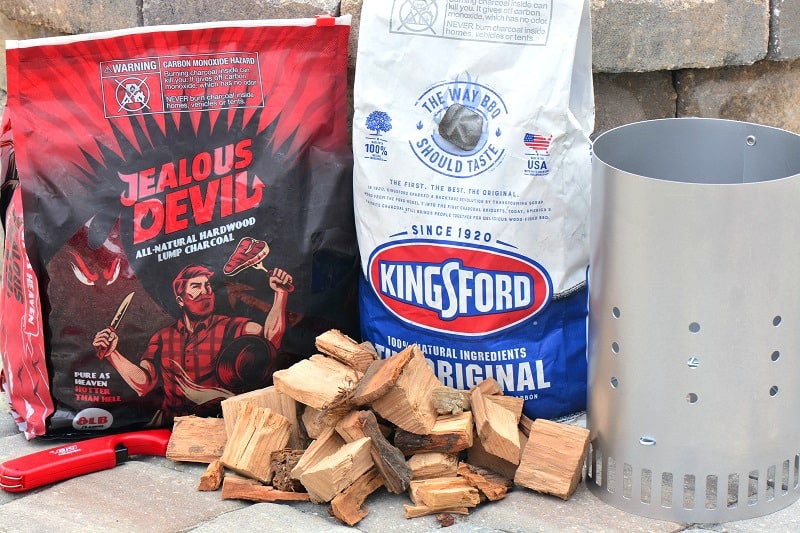 LUMP COAL
Lump coal is a natural charcoal made simply by burning chunks and logs of wood in a kiln. There are no chemicals or additives in lump coal, just wood. Because there are no additives, lump coal burns much faster and hotter.
These coals are good for fast and hot grilling like steaks, seafood, burgers, and other dishes that don't take much more than 30 minutes. Although, you can refuel lump coal by adding more to already lit coals and there will not be any thick smoke like freshly lid briquettes produce. But do expect a quick temperature raise when adding more lump coal when refueling.
Lump coal does run a little more expensive than briquettes. Jealous Devil, FOGO, and Royal Oak all make good lump coals.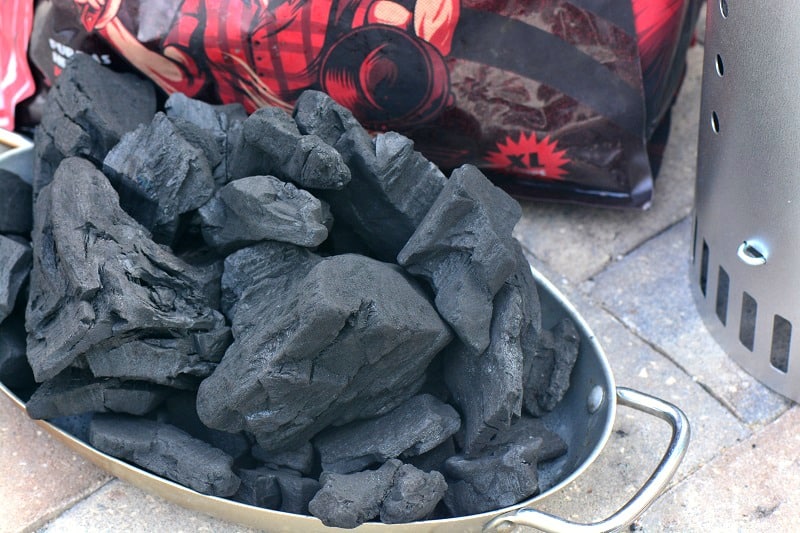 CHARCOAL BRIQUETTES
Charcoal briquettes are also made out of wood but they are designed and produced for a more efficient grilling and have additives. Briquettes are made by combining and binding wood scraps, sawdust, coal dust, and starch binders.
There are many varieties of charcoal briquettes and all with different types of chemicals and additives, especially those meant for easier lighting. Try to avoid those that already contain lighter fluid because those chemicals burn really off during the lighting process and it transfers into the taste of food.
When choosing charcoal briquettes, go for the most natural ones without anything added to it like lighter fluid or wood flavorings. You truly don't need lighter fluid to light coals. It's really quite easy!
In short: lump coal burns hotter, cleaner, and faster than charcoal briquettes but it does not maintain temperature evenly or as long and costs more.
Royal Oaks makes great natural charcoal briquettes and so does Weber. Kinsford is another nice more affordable option for natural briquettes.
HOW MUCH COAL TO USE AND TEMPERATURES
The general rule for knowing how much coals you need is remembering that more coals = hotter grill.
It's easy to measure the coals based on the chimney starter. Full standard chimney holds about 100 briquettes.
Low grill temperature – 250°-300°, fill chimney about ¼ to 1/3 of the way. These grill temperatures are good for cooking pork ribs, whole chicken, and other larger meats. (Slower cooking requires additional methods of preparing and arranging coals. Don't assume that 1/4 chimney will get you over 4 hours of slow cooking, this it is a reference for lighting coals.)
Medium grilling temperature – 350°-450°, fill the chimney about 1/2 to 2/3 of the way. These grill temperatures are good for proteins that need to be thoroughly cooked chicken, uncooked hot dogs, pork chops, seafood, and also vegetables. This is the most commonly used temperatures for grilling.
High grilling temperature – 450°-550°, fill chimney 3/4 or all the way. These temperatures are good for grilling steaks, thin cuts of meat, burgers, and hot dogs. It will take about 10 minutes for the grill to get to high temperature.
Smoking and slow cooking – low temperature of 200°-225°.
NOTES:
Temperature also depends on how thin you spread the coals. If you spread all coals in a thin layer in a larger grill, it will have a lower temperature and stay lit for less time. If you spread the coals a little closer together in a smaller grill, the temperature will be hotter and coals will stay lit longer. Building two temperature zones is beneficial for this reason as well.
Proximity to the grill grate will also affect the cooking temperature near the grate. For hotter temperatures, move coal basket closer to the grilling surface and for lower temperatures, move the coal baster further away from grilling surface. This is for the grill that allow adjusting the coal basket.
If cooling a lot of food on a large barrel grill, you may need to prepare a whole chimney and spread the coal thinner.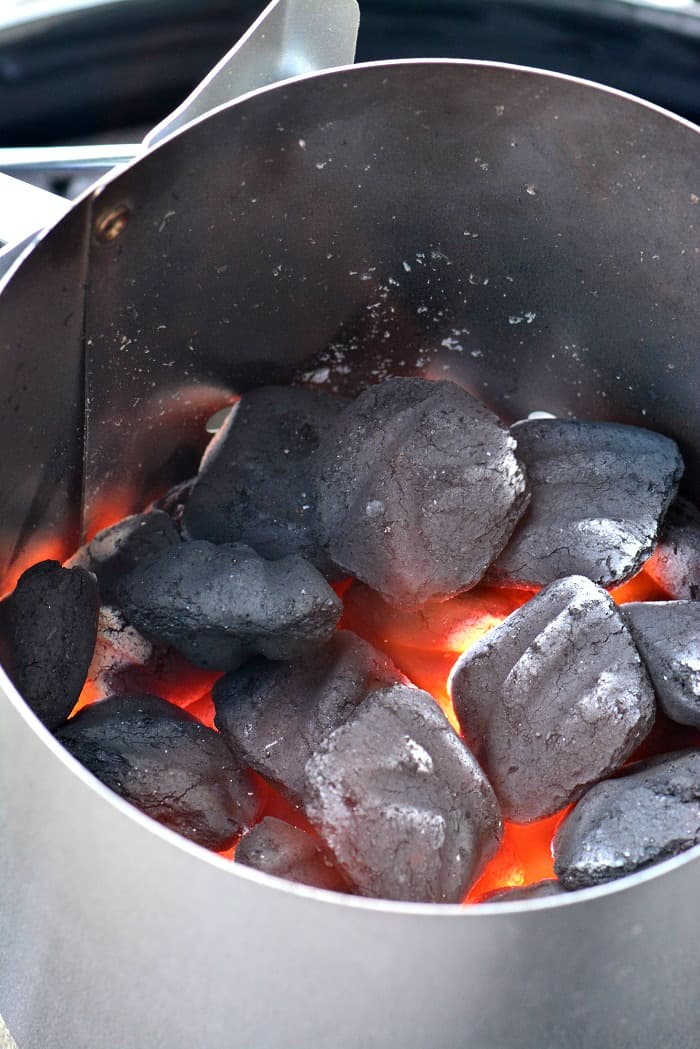 CHECK OUT MORE TIPS ON CHARCOAL GRILLING
How to Start Coals in Chimney Starter