Let's talk about the most common types of grills that are best suited for backyard grilling. When it comes to choosing a grill, every person should take their own, personal needs in considerations. Do you need large capacity grill? Do you have enough space for the grill? Maybe you want to do some smoking and slow cooking on the grill? And of course, it's important to take price in consideration.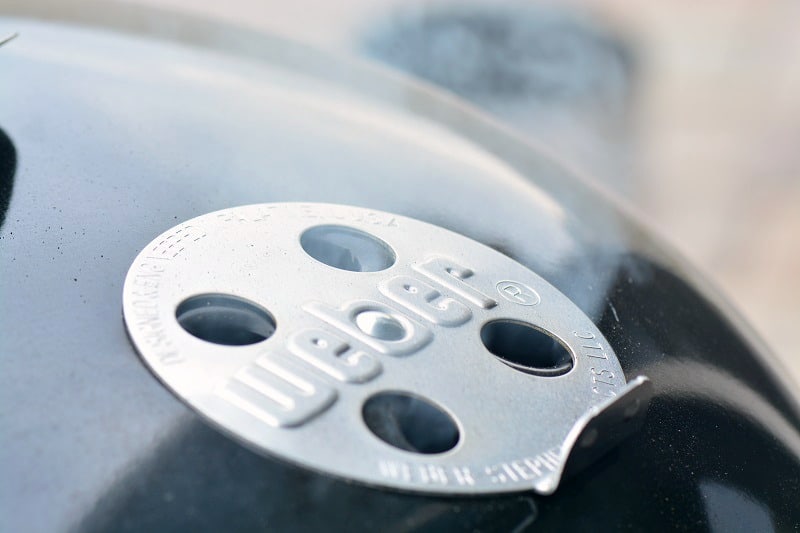 GRILLING WITH CHARCOAL GRILLS
It's a beautiful warm night and you have a craving for a beautiful grilled steak. Or maybe it's a smoky, juicy burger that you desire? Oh no, cedar plank salmon … yes, that's what I want! Well, now I'm hungry and ready to fire up the grill.
My favorite way to grill is with charcoal, hands down. The very first grill that I bought about 15 years ago was a two-in-one charcoal and gas combination grill. Gas side took up about 2/3 of the grill and there was a small square space left for charcoal.
We owed that grill for about 6 years, never even touching the gas side. I don't think we bought a single propane tank for it either. We just used that tiny square meant for grilling with coals. When it was finally time to upgrade the grill, it was clear that we needed one big charcoal grill.
Sure gas grills have a few appeals to it, convenience being the biggest one. It's very easy to start the grill with just a flip of a switch and easy to maintain the temperature. Grilling out with a gas grill is a breeze but I never found the use for it because the result is not much different than cooking on the stove. Even though you're cooking over flame, I feel like the authentic grill flavor is missing.
Grilling with charcoal grills takes a little more time, a little more effort, and a little more practice. But, it is absolutely worth it. It's the labor of love and the results reflect it a hundred percent.
So dust off your charcoal grill (or go get a new one) and let's fire it up!
TYPES OF CHARCOAL GRILLS
There are three most common types of charcoal grills preferred for backyard grilling: kettle, barrel, and ceramic.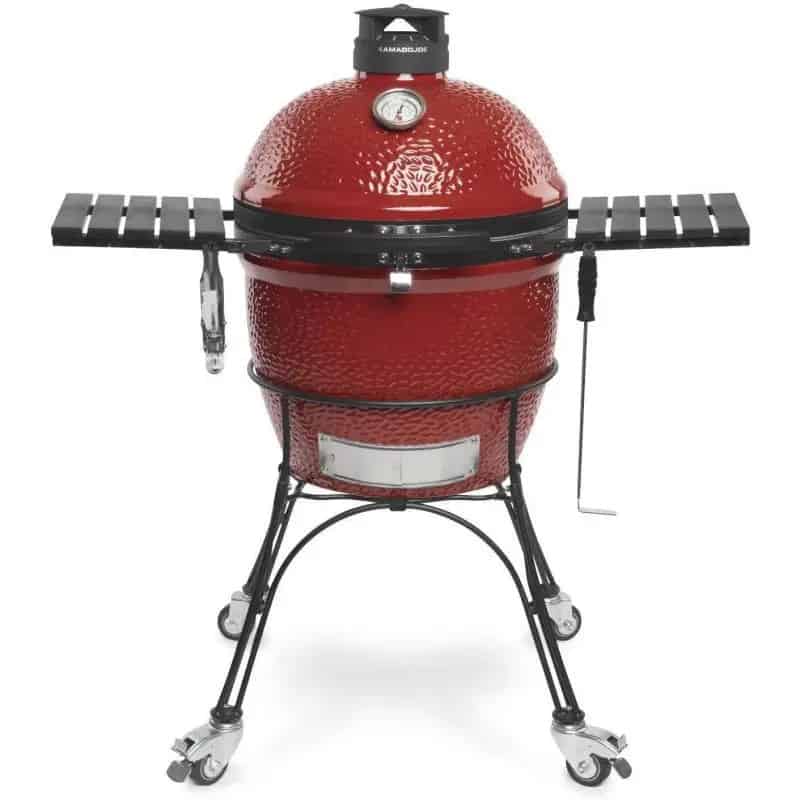 Ceramic Kamado Grills
Ceramic Kamado grills are the ones that many barbecue enthusiasts dream of but not all actually have. The reason why this grill is the object of my (and many other's) dreams is the quality and versatility. Ceramic Kamado grills are constructed with heavy duty, thick ceramic, which makes them very durable and very well insulated.
Well insulated grills are good at keeping temperatures steady, they cook evenly, and they are much more fuel efficient. When heat doesn't leak out, temperatures hold steady for longer period of time and you use less charcoal and wood. Being able to hold steady temperatures is a huge plus because food will cook evenly anywhere on the grilling surface.
Due to the quality of construction in kamado grills, you can do everything right on this grill, whether you want to grill, roast, barbecue, bake, or smoke.
These grills are heavily influenced by the classic Japanese barbecue grills. Original Japanese Kamado grills were made out of clay but once they were redesigned and recreated in America, it is now made out of ceramic for better moisture and heat control.
The reason why these grill stay a dream for many is the price. Because of the high quality of Kamado grills, they can be quite pricey.
PRO: great insulation and temperature control, fuel efficiency, versatile to many cooking methods.
CON: expensive and heavy.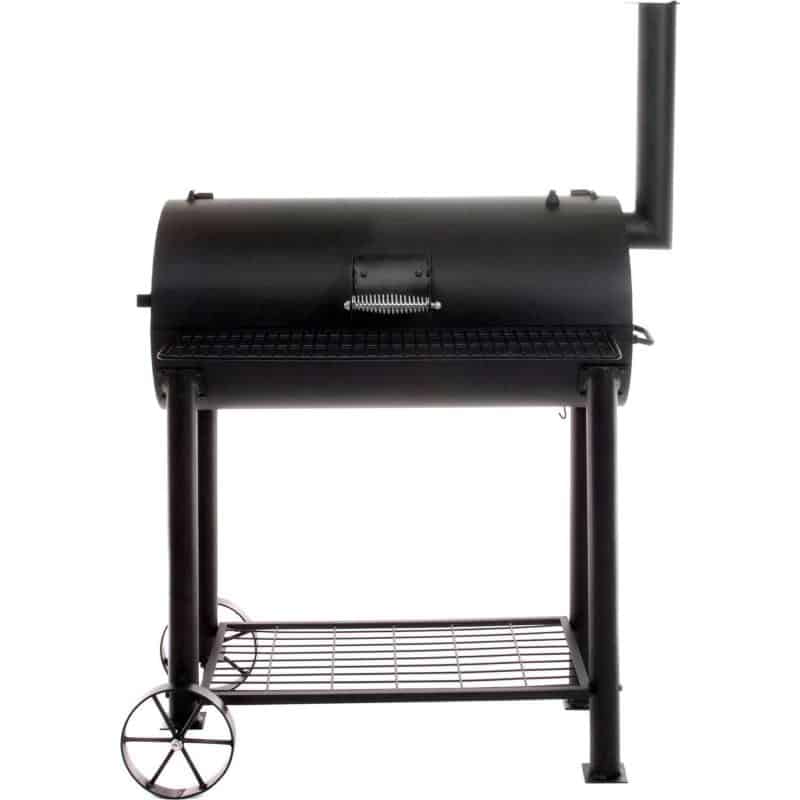 Barrel Grills
Barrel grills are the ones that look like a large barrel laying on its side. It splits in half through the middle to have grilling surface on the bottom half and the lid is the top half. These grills have a large capacity and great for accommodating big crowds because of the large, rectangular grilling surface.
Many barrel grills on the market also have an option to attach a firebox to its side and turn the grill into an offset smoker as well. It could be very convenient for people to be able to grill, barbecue, and smoke on the same grill.
Barrel grills can be very good or just okay. It all depends on the quality of materials used to make it, and how well it is insulated. However, higher qualities will reflect in the price, of course.
PRO: large cooking capacity, can be turned into an offset smoker.
CON: lower quality barrel grills that are not well insulated and built out of thinner materials are not good at temperature control and even cooking.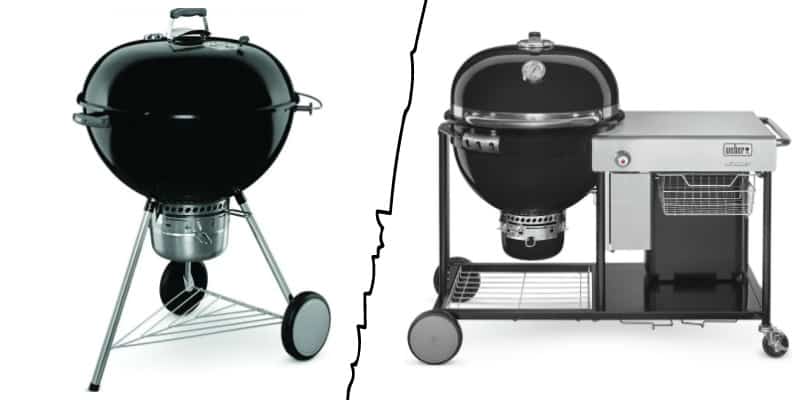 Kettle Grills
Kettle grills are the most popular ones on the market. These grills are have a round shape, domed lid, charcoal grid, cooking grill, and a chamber for ashes underneath. For your convenience, they come either as free-standing or with convenient attachments.
Kettle grill was invented by George Stephen in 1952, when he was working for Weber Brothers Metal Works. Rounded shape of the grill and the lid is the key to the even distribution of heat to the entire cooking surface. Because of this design, the temperatures are more steady throughout the chamber.
These grills are easy to work with, east to move around, and do their job fairly well.
The down side to kettle grill is that it is not well insulated so it is not great for slower cooking and smoking. Even though many people come up with ways to smoke and slow cook on kettle grills, it's not an optimal equipment for it.
PRO: durable and does its job of grilling well.
CON: not enough room for larger cookouts, not designed to be a smoker, and my personal con is the lack of cast iron grate upgrade.
CHECK OUT MORE TIPS ON CHARCOAL GRILLING
How to Start Coals in Chimney Starter