When you think about smoking pork, ribs may be the first thing that comes to mind. This Smoked Pork Loin will change your mind about that. There's nothing better than a juicy smoked pork loin straight out of the smoker. Tender, juicy meat that slices so easy and pairs great with all BBQ sides. This dish is sure to be a winner.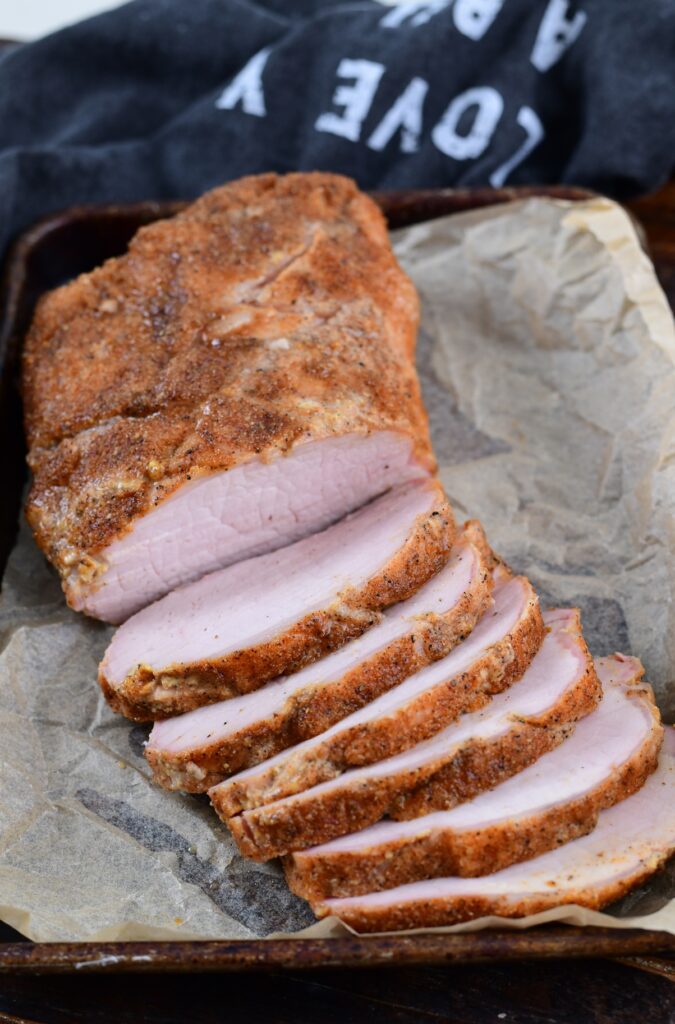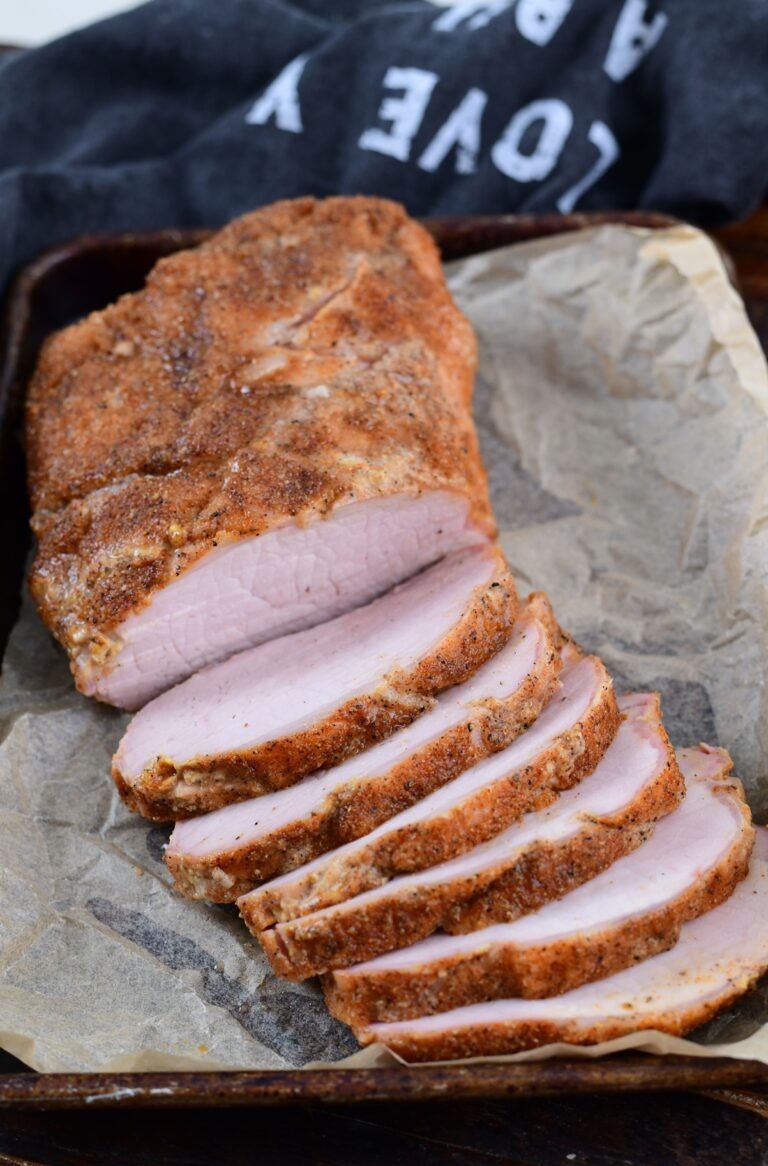 Smoked Pork Loin
Ribs and pulled pork may be the go to for smoked pork but while those are the staples, there are many other options available. This Smoked Pork Loin may just sway you to start thinking outside the smoke box.
This juicy cut of pork redefines what it means to be a smoked meat. Tender and full of flavor, this pork loin soaks up all of that smoky flavor. This isn't your ordinary smoked pork, this is pork at the next level!
How to make Smoked Pork Loin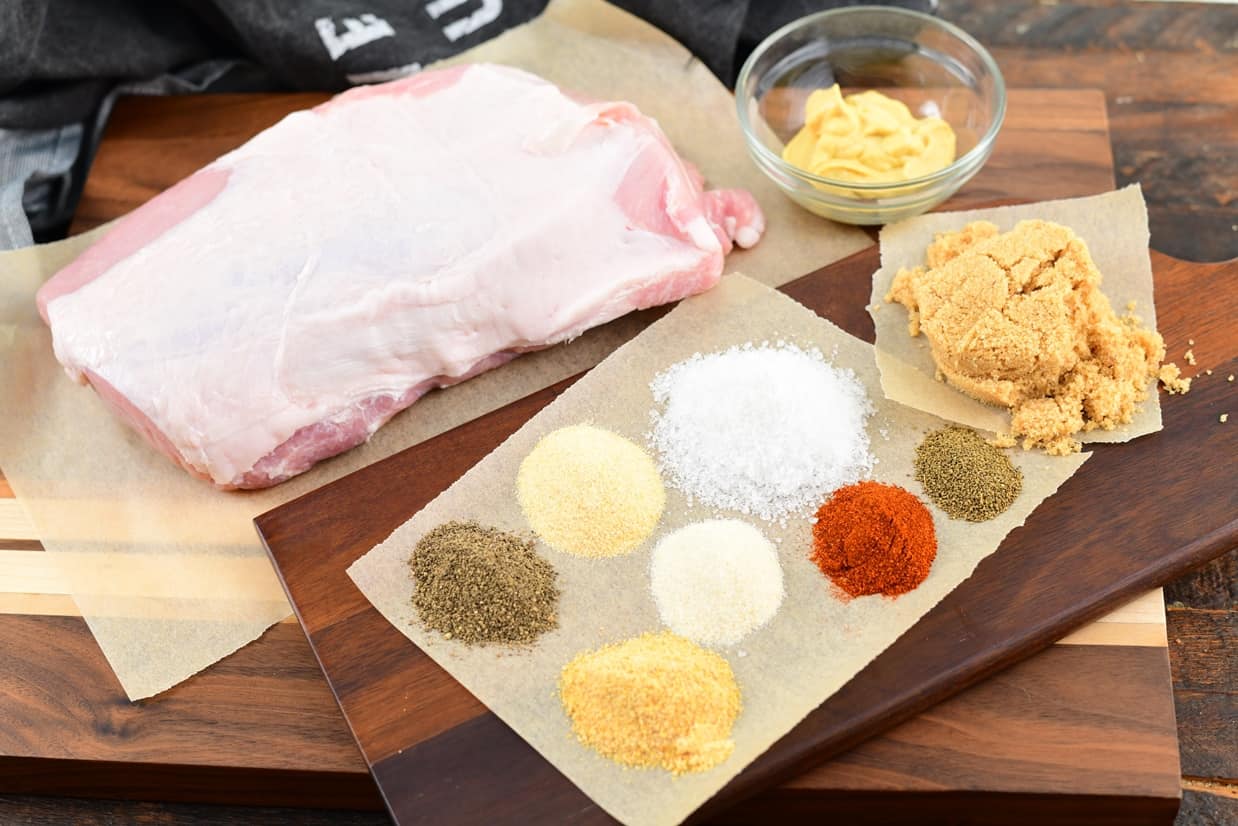 Ingredients:
Pork Loin – You'll want to make sure that you select a loin that is between 3 and 4 pounds. Smaller loins will be done faster, not allowing the smoky flavor to take hold. Larger loins will take longer to cook.
Dijon Mustard – You'll be using this mustard as a glue for your seasoning rub. Why Dijon Mustard you ask? I'm glad you asked! While yellow mustard is closely associated with pork entrees, Dijon Mustard will add more tangy and spicy notes of flavor on your loin.
Prepare the pork loin: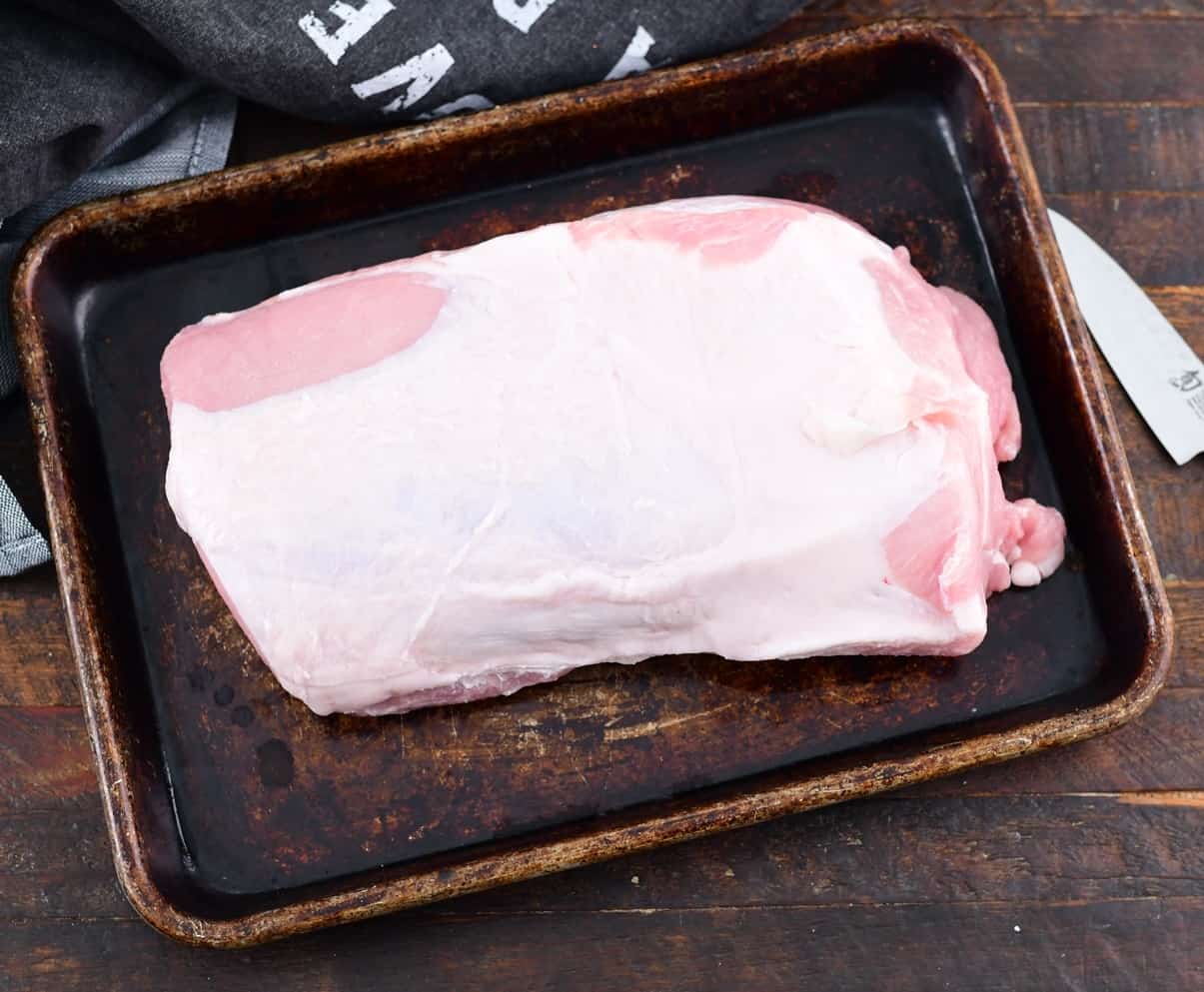 Once you remove your pork loin from the packaging, rinse it off. You want to try to remove all of the packaging moisture before trying to apply anything to the meat.
After patting down your loin to remove the excess moisture, place the meat on a cooking tray. We'll next pay attention to the fat cap. Some grocery store meat department do a pretty good job with trimming the excess fat off of loins, but you'll want to leave just about a 1/4″ of fat on the fat cap.
After you have trimmed your loin, the next step is scoring the fat cap. Whenever smoking meats, you want your fat caps to render. With some cuts of meat taking longer to smoke then others, scoring the fat caps of shorter cooking duration meats, gives it a little jump start. Slice into the fat about 1/4′ deep, diagonally in two directions across the top of your fat leaving about 1 inch diamonds. This will not just aid the rendering but will give your loin a nice look coming out of the smoker.
Allow the pork loin to reach room temperature, this will allow everything to adhere to the meat much better.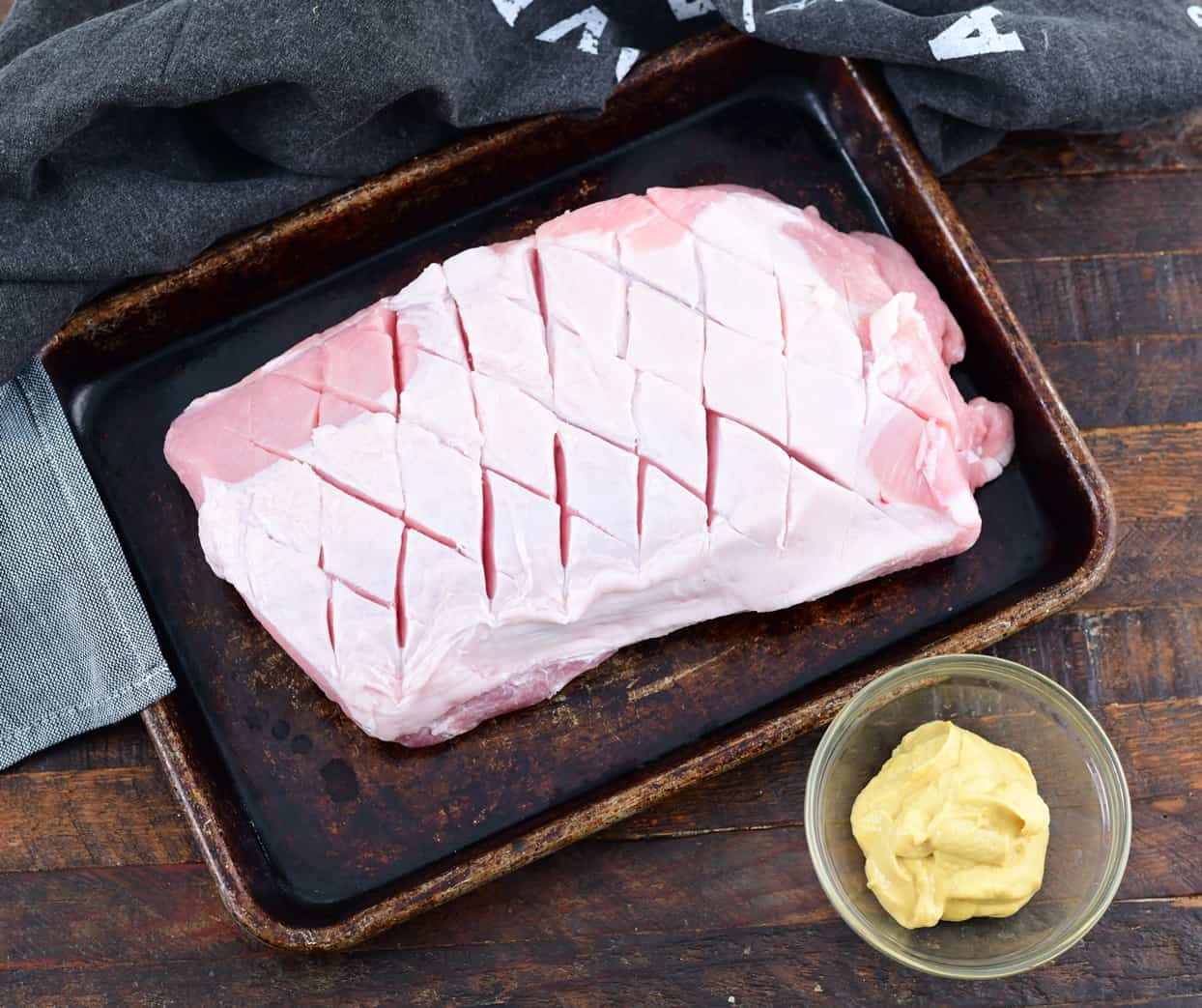 Directions:
Prepare your smoker as needed and preheat it to the temperature between 225° and 250°. We all know apple goes great with pork, so choose a nice flavorful Apple wood for this smoke.
Now that you have your pork loin scored, it's time to apply the glue. The glue is what is going to be used to hold your seasoning to the loin. Now you can use oil here if you like, but as you know, we like to go next level. Take your Dijon Mustard and evenly coat the loin top to bottom with it. It's best to pat your loin and rubbing the mustard in will only smear it.
Now it's time to add the rub!
Preparing the rub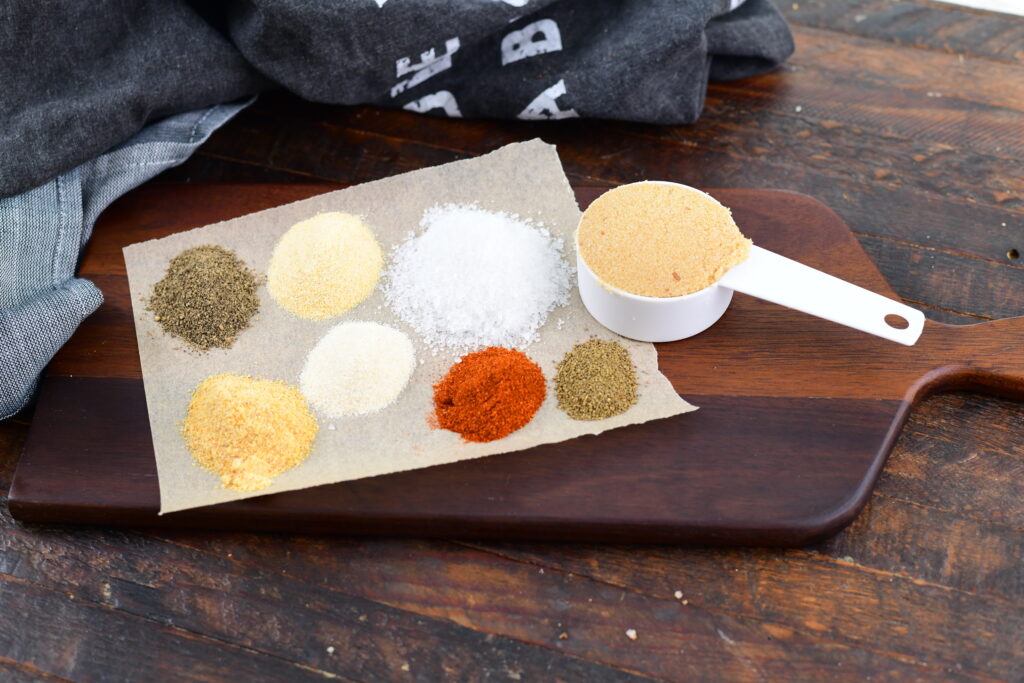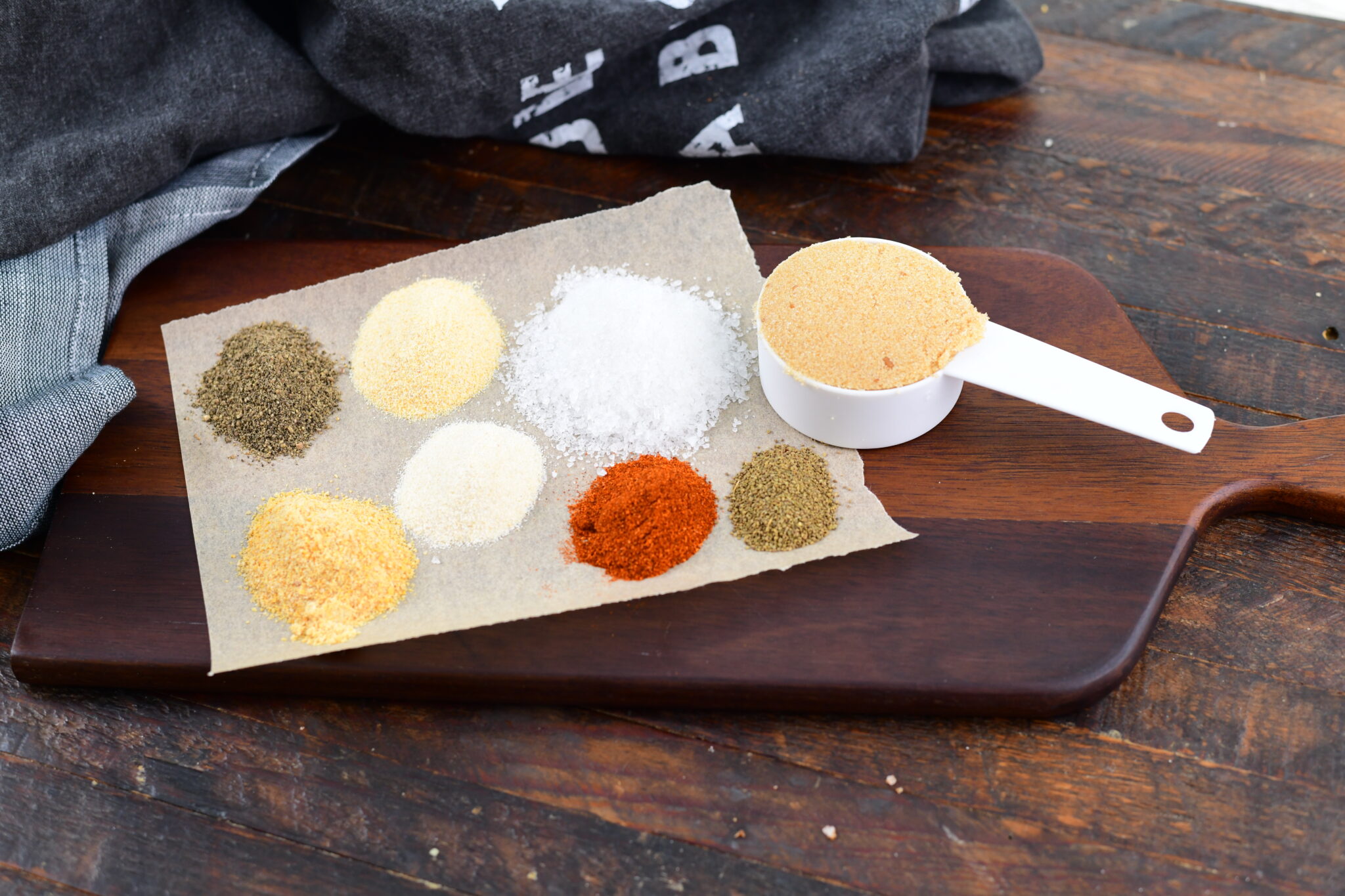 Ingredients:
Brown sugar – you can use light or dark brown sugar. Dark brown sugar had a higher molasses content than light.
Salt – use coarse salt like coarse kosher salt or sea salt, NOT table salt.
Fresh cracked black pepper – try to get whole peppercorns and grind it yourself for the stronger and more aromatic flavors.
Garlic powder – make sure to use garlic powder, not garlic salt.
Onion powder – Packing a subtle but powerful touch of flavor, be careful to not use too much, you don't want it to be all you taste.
Paprika – Ranging in flavors from mild and sweet to spicey, domestic paprika is typically mild and sweet with a vegetable like taste. This will add contribute to your rubs flavor profile.
Ground Mustard – While we use the Dijon Mustard as the glue in this recipe, some of that flavor will be lost due to the rub and the smoke. The ground mustard will kick some of that flavor back in.
Celery Seed – Used for medicinal purposes in ancient times, these days we use celery seed to add to the herbal aroma of food. With our sense of smell said to account for over 70% of our taste, celery seed will enhance the flavor of your rub in multiple ways. The strong astringent flavor will be a fine addition and balance out the flavor pallet.
Now that you have gathered all the necessary ingredients for your rub, it's time to mix it up. Using a small bowl, combine all of the ingredients thoroughly. Make sure that you smooth out any clumps and that your rub is nice and thin. This will make it more pliable when coating your loin.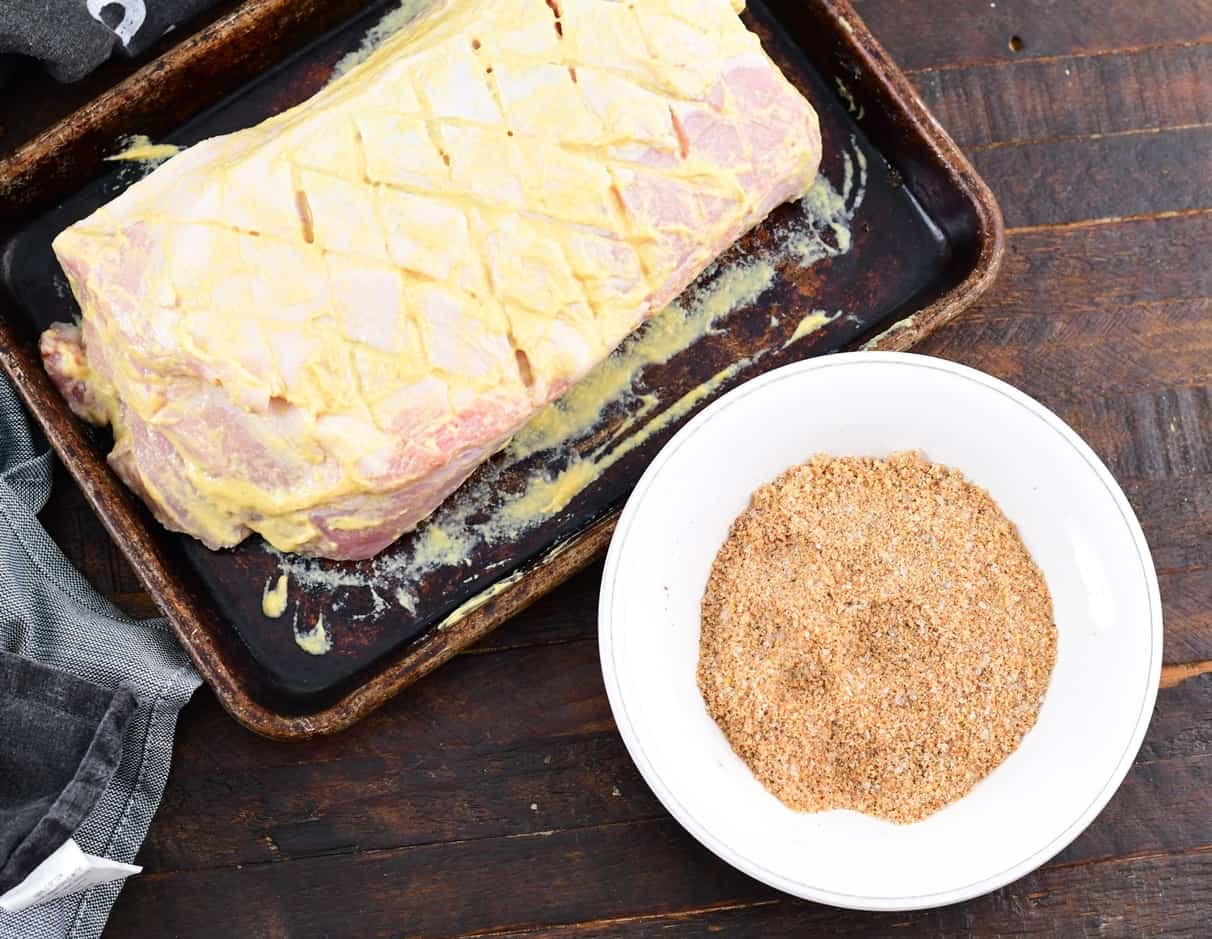 With your smoker now maintaining a temperature between 225° and 250°, apply your rub to your mustard covered loin.
Using the cooking tray to catch any stray rub, start to apply the rub to your loin. Remember not to smear the seasoning onto the loin but patting it so that you get as much rub to stay on as possible. You'll notice some of your rub will accumulate onto your cooking tray, use it! Spread the accumulated rub and use the tray to help you apply the rub by placing your loin directly onto it.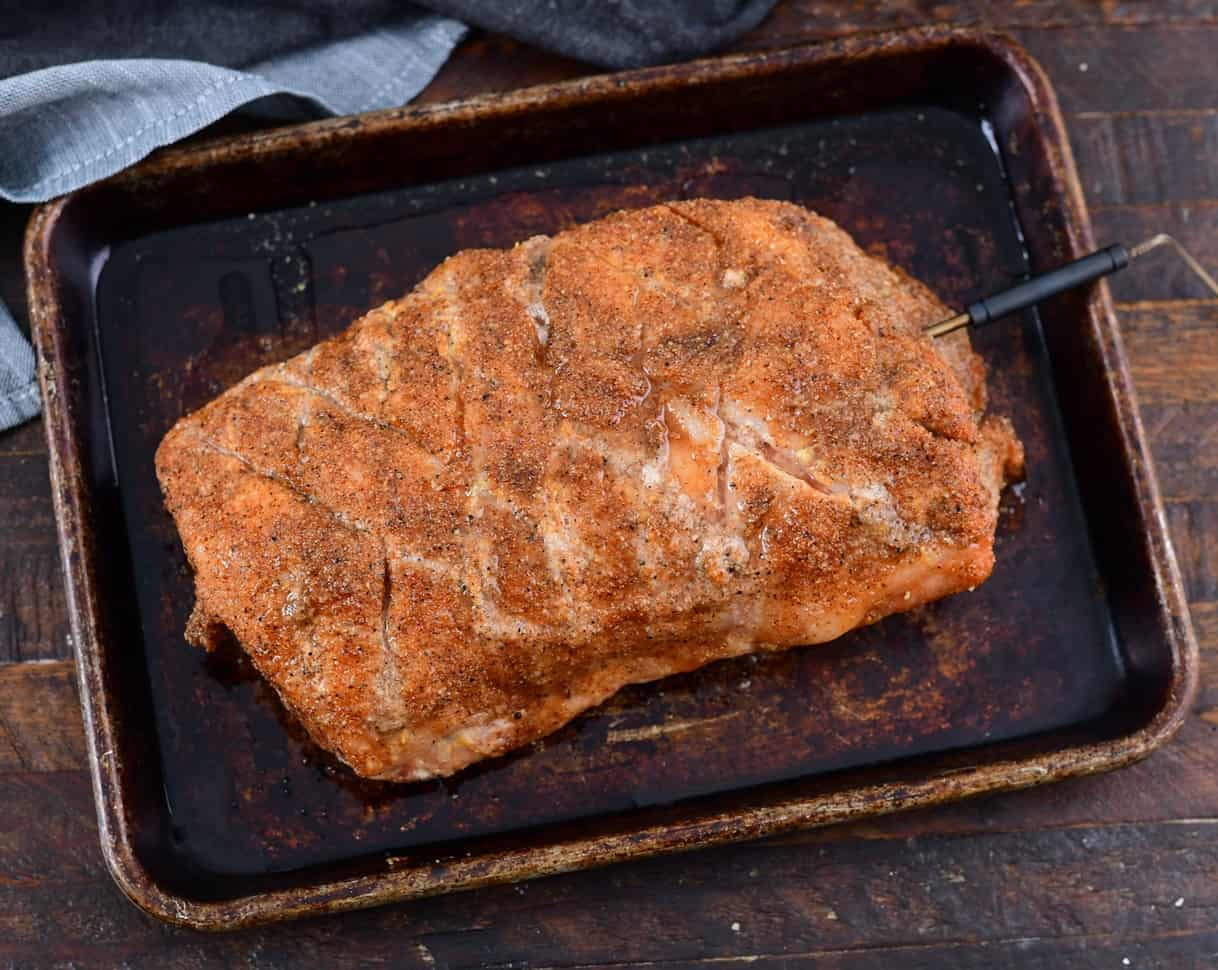 With a probe thermometer inserted, place your loin into your smoker. Make sure the probe is inserted directly into the middle of the long as far into the center as it will go. Pork is done cooking when it reaches an internal temperature of 145°. Cook time will vary according to the size of your loin but can be anywhere from 2 to 2.5 hours for a loin between 3 and 3 and a half pounds.
When the loin reaches 145°, remove it from the smoker, placing it back on a clean cooking tray, tent with foil and allow it to rest for about 15 minutes. Don't tent it too tightly but just enough to cover the loin and the cooking tray it's place on. Tenting the loin will allow the juices in the pork to redistribute throughout the loin before you prepare to slice it.
Once your loin has rested the 15 minutes, remove the foil and begin to slice it in quarter inch thick slices. Plate, serve and enjoy!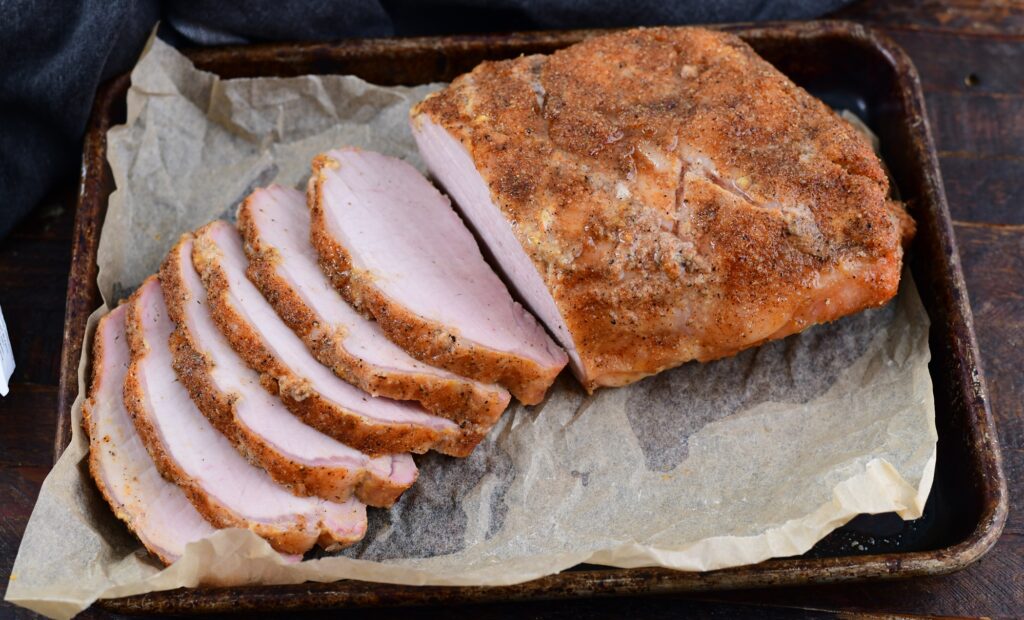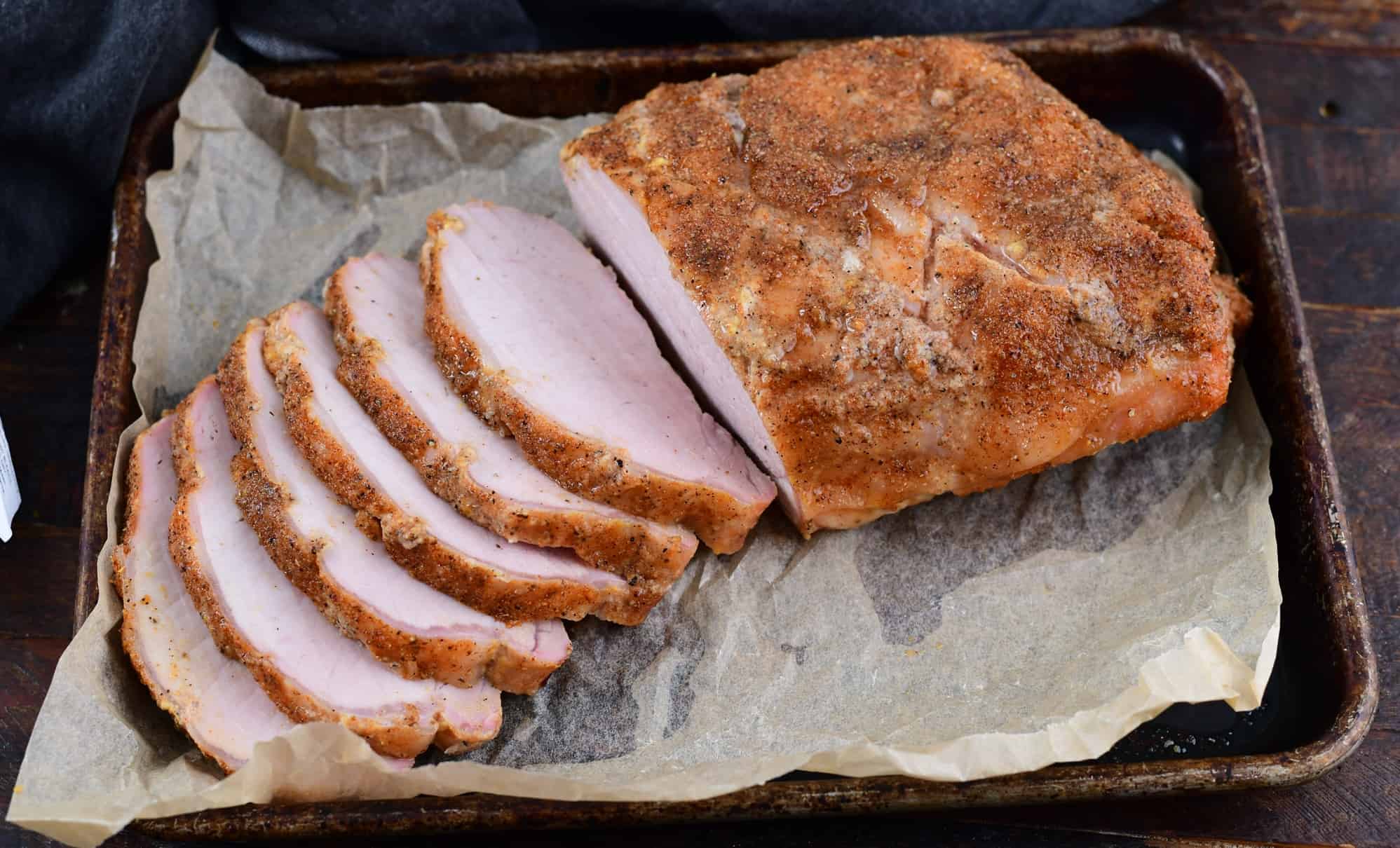 Frequently Asked Questions
What wood should I use to smoke a pork loin?
Most people agree the apple and pork go together like peanut butter and jelly. A nice fruity apple wood is perfect when smoking a pork loin.
How long does it take to smoke a pork loin?
Just like any other meat, smoke time varies greatly depending on the size of the meat you are smoking. For pork loin, you'll want to cook it to a 145° internal temperature.
Can I use yellow mustard as the glue?
You can certainly use yellow mustard instead of Dijon Mustard as the glue for your rub. There may be a different flavor profile, but it will complete the task at hand.
How to serve:
Now that you have a perfectly smoked pork loin, it's time to share it with those closest to you. I know it's difficult, but remember, it's polite to share!
You can dress up your table around the pork loin with delicious sweet sides like our Watermelon Feta Salad and Smoked Sweet Potatoes or go a little more savory with some Pickled Jalapenos.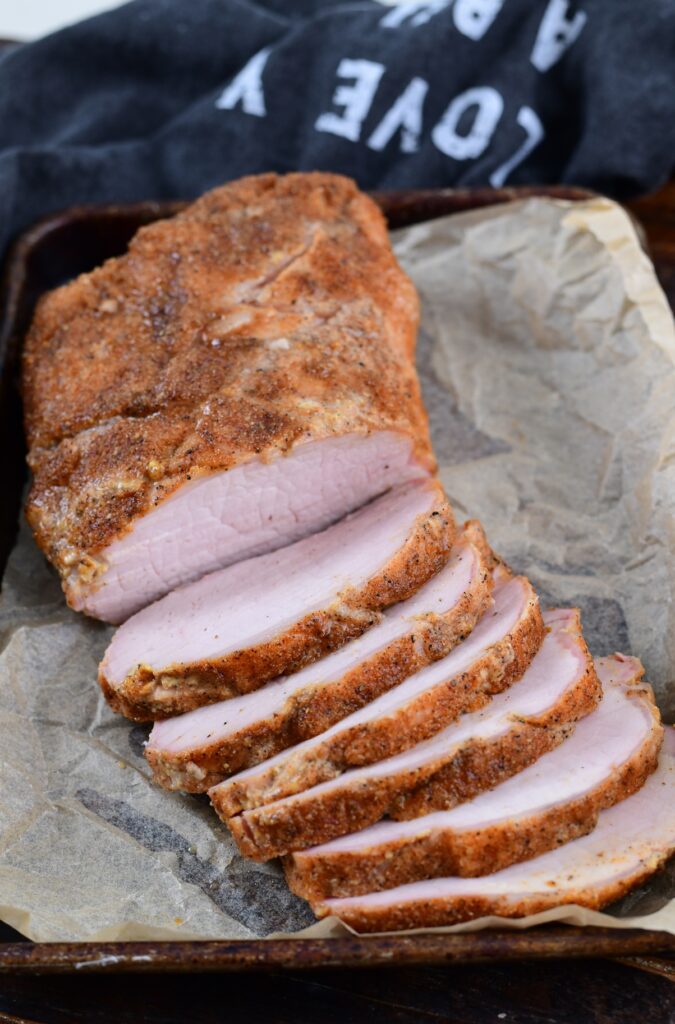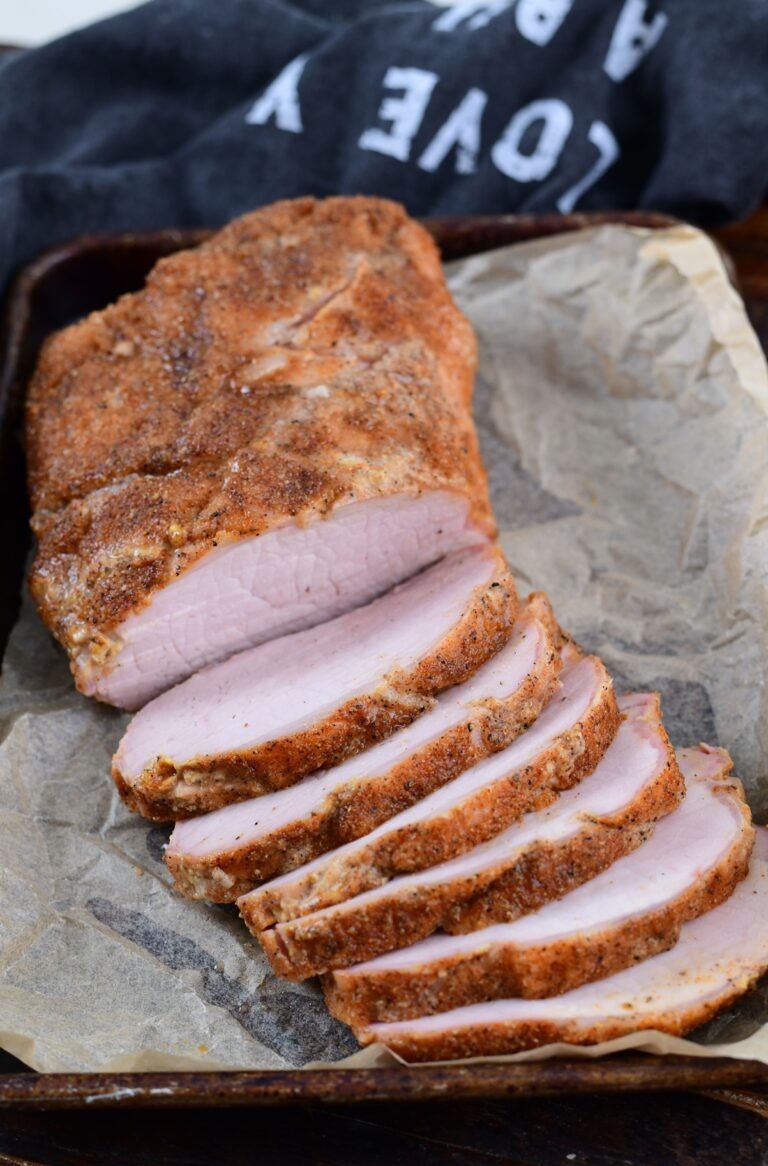 CLICK TO PIN THIS SMOKED PORK LOIN FOR LATER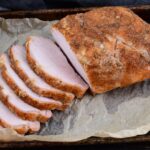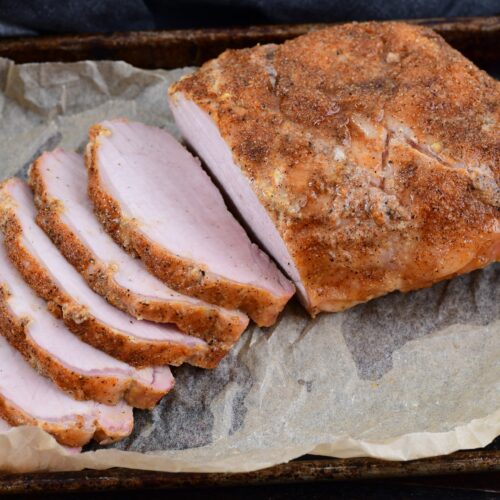 Smoked Pork Loin
There's nothing better than a juicy smoked pork loin straight out of the smoker. Tender, juicy meat that slices so easy and pairs great with all BBQ sides.
Print Recipe
Ingredients
3

lbs

Pork Loin

3

tbsp

Dijon Mustard
Rub
1/3

cup

Brown Sugar

1/2

tbsp

Paprika

1

tbsp

Garlic Powder

1/2

tbsp

Onion Powder

1

tbsp

Ground Mustard

1

tsp

Celery Seed

1.5 – 2

tsp

Salt

to taste

1/4 – 1/2

tso

Pepper

to taste
Instructions
Preparing the pork loin
Once you remove your pork loin from the packaging, rinse it off, patting down your loin to remove the excess moisture.

Trim any excess fat off of loins, but you'll want to leave just about a 1/4" of fat on the fat cap.
Nutrition
Calories:
334
kcal
|
Carbohydrates:
15
g
|
Protein:
49
g
|
Fat:
8
g
|
Saturated Fat:
3
g
|
Polyunsaturated Fat:
1
g
|
Monounsaturated Fat:
3
g
|
Trans Fat:
0.1
g
|
Cholesterol:
154
mg
|
Sodium:
209
mg
|
Potassium:
982
mg
|
Fiber:
1
g
|
Sugar:
12
g
|
Vitamin A:
367
IU
|
Vitamin C:
0.4
mg
|
Calcium:
41
mg
|
Iron:
3
mg